[ Up ] [ Caleb Greenwood ] [ Cottage ] [ Dyer-Kelly ] [ Edison ] [ Greer ] [ Howe - 7th ] [ Howe - 8th ] [ Jonas Salk - 7th ] [ Jonas Salk - 8th ] [ Sierra Oaks ] [ St Ignatius ] [ St Philomenes ] [ Wyda Way ]
Class of 1973 - Thomas Edison Elementary School
This section contains Thomas Edison Elementary school pictures for the class of 73.
Click on thumbnail to see fullsize image.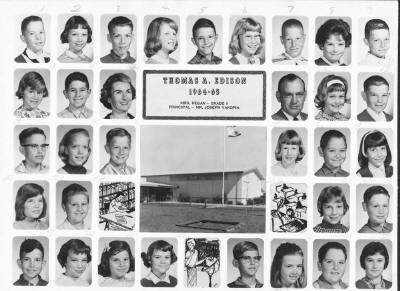 Mrs Regan's Fourth Grade class 1964-65 (courtesy of Ben Franklin)
Row 1: Steve Fator, Angelica (Geli) Renz, ?, Barbara Willams, Ralph ?, Marie Bain, Steve ?, ?, ?
Row 2: ?, Mark ?, Mrs. Regan, Mr. Yakopin, Theresa Cottrel, Denis Brakebill
Row 3: Ben Franklin, Patty Walker?, Jim Neufer, Pam Wedeking, Daryl Lonstrap, Debbie Walker
Row 4: Debbie Putman, Tim Paterson, Becky Elliot, Brent Grimes
Row 5: Bob Wales, Karen Glenn, Denise ?, Donna Lalatin, ?, Terri Smith, Terri Smith, Tom O'Connor, ?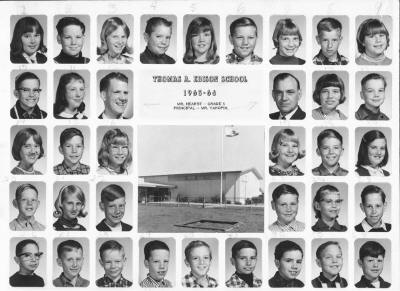 Mr Hearst's Fifth Grade class 1965-66 (courtesy of Ben Franklin)
Row 1: Saundra James, Chris Jones, Barbara Williams, Paul Alexander, Marlene Smith, Jim Cottrel, Becky Elliott, Jim Newfer, Sue Babich
Row 2: Ben Franklin, Cindy Vice, Mr Hearst, Mr Yakopin, Debbie Putman, Dwane Elder
Row 3: Margie ?, Steve Fator, Marie Bain, Leane Moore, Todd Brownell, Pam Allen
Row 4: Kevin Berg, Theresa Cottrel, Mike Mansfield, Brent Grimes, Denisa Smith, Max Hartley
Row 5: Ken Adams, Tim Watts, Tom Rowell, Gary Marshall, Brian Lancaster, Bob Young, Philip Kender, Kennie Loar, John Castle