Encina High School Booster Club
The Encina Booster Club was established to support Encina High School.
The Board Members are:
President: Jennifer Peterson - (916)641-0456 or jobdeveloper@Hotmail.com
Vice President: Mae Fax
Treasurer: Mae Fox (acting)
Secretary: Roxanne Higgins
The Booster Club has a parent office at Encina High School: 916-971-5801
Booster Meetings are held every second Tuesday of the month in the Encina library.


2007 Booster Club Scholarships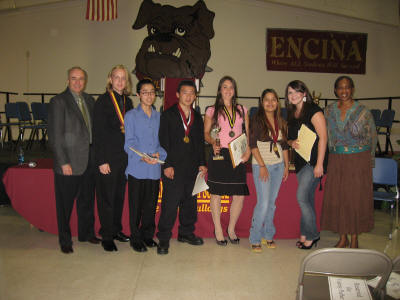 Steve Palmer 74, Alex McBee ($100), Chee Her ($500), Kong Her ($800), Kristina Karavan ($100), Thania Moran ($1,000), Inna Tyulyu ($800) and Myrtle Berry
Patrick Moore is going to Sacramento City College
Alexander McBee and Kristen Jones is going to American River College
Chee Her, Kong Her, Inna Tyulyu, Kristina Karavan are all going to UC, Davis


ALUMNI CHALLENGE

The money raised by the alumni challenge fundraiser goes to the Encina Booster Club, who allocates the funds based on requests from students and faculty. While much of the money is allocated to sports as you would expect from a booster club, a lot of the money also goes to non-sports programs.
Funds from the 2005 Alumni Challenge were spent in the following manner:
Math Tutorials
CAHSEE (California High School Exit Exam) Tutorials
Library Racks (magazine and newspaper)
Art mat cutters/blades, and drying racks
Business Academy
Choir CD/DVD Burner and label maker
Festival de los Artes
Counseling
Scholarships
Homecoming Alumni Expenses
Alumni Challenge Expenses
Field Trip for American Government classes
Plus support for tall the sports (uniforms, equipment, etc.)

Here is a list of some of the programs funded in the past:
New Student Welcome Program through Counselors
Encina Art Gallery (Art Opening Receptions)
Performing Arts (Students attending local plays)
Cheerleading
Freshman Feast (a Freshman event with Senior peers/guides)
Encina Broadcasting System (EBS) (equipment and supplies)
Football
Boy's Soccer
Girl's Soccer
Girl's Softball
Girl's Volleyball
Girl's Basketball
Boy's Basketball
Basketball Tournaments
Sports Banquets
Every 15 minutes (drug/alcohol intervention)
Alumni Challenge event
The encinahighschool.com Website
SAP (Student Assistance Program)
Reading Program
Student to Ashland to participate in Shakespeare Festival
After school tutoring
Backboard replacement
Drama department (students) trip to Ashland

FINANCIAL OVERSIGHT

Several alumni have asked whether there is any financial oversight for all the money donated to the Encina Booster Club. Whether there is anything which prevents the funds from being misused or even embezzled.

Steve Palmer 74 realized very early on, that the Encina Booster Club lacked such oversight and worked with Encina to implement sound financial practices. Here is Steve's description...

"I am happy to talk about Encina's Booster Club financial oversight. I sit on the Booster Club as "Auditor". I attend most monthly meetings which are held at 6:30 pm on the second Tuesday of each month except July and August.

Funds that are collected by the Booster Club are deposited into a Bank of America account. Heddy Crowder, Encina's Community Liaison, records how much is received from whom (photocopies incoming checks, snackbar sales records, etc). She emails Harlan and me with Alumni donor name, date of receipt and amount. While Harlan does not usually see snackbar, t-shirt sales and such, I do. The majority of our funding is from Alumni Challenge pledges. Our treasurer is Shastitie Ferris-Miller, a volunteer who works for the state. Shastitie reconciles each month's bank statement with our Quicken records and provides a detailed journal at each monthly meeting. I and Heddy receive a copy of the Quicken files as well. Treasurer's records are reviewed at each meeting at which time we also make disbursements for approved expenses. All personal who handle money are bonded. Encina had some snackbar receipts stolen by a parent in the past, so we're extra careful!

Each year, Principal (Myrtle Berry), our Treasurer (Shastitie) , President (Lucy Thomas), Encina Community Liaison (Heddy Crowder) and I build a proposed budget to be approved (with modification/changes) by the membership. We allocate funds to Encina programs based on department need with about 50% going to sports and 50% going to academic programs, scholarships, Alumni Challenge expenses, and such. Each semester we ask staff to submit requests for program and project funding. We fund those that are believed to provide the greatest positive impact to Encina students.

We hold about 15% in reserve from one year to the next and for "emergency" requests. For example, this year Encina fielded a tennis team for the first time in many years! The Booster Club (because of Alumni generosity) was able to purchase uniforms and equipment.

Please let me know if you'd like more detail or additional information.

Alumni, thank you for supporting Encina's students and future alumni!

Steve Palmer
Encina '74"
Alumni who wish to contribute to the Booster Club, a non-profit organization, may send their contributions to:
Encina Booster Club
1400 Bell Street
Sacramento, Ca 95825
916-971-5801
Last updated: 03/02/2009