Sixth Annual Encina homecoming party
The Homecoming 2003 party will be Friday, November 7, 2003 at El Camino HS.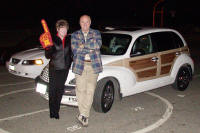 This year we will be having a Madrigals reunion with Jack Carey. Spread the word!
"To all Encina Madrigals and Music Alumni:

You are invited to a reunion on November 7th, 2003 from 4 - 6 PM in the band room at El Camino High School. We will renew old friendships, share stories, and hopefully sing some music together. I wiill bring what memorabilia I have saved. If you have items you would like to share please bring them. Looking forward to seeing you at this pre-homecoming event.

Jack Carey, The Music Man"
[Homecoming 2003 rsvps] [Madrigals reunion] [Pregame party] [Homecoming game]
Event: Homecoming Rally
Date: Friday,

Nov 7, 2003


Time: 11:00-11:35am
Where: Encina High School

gym

You must check in at the front office and get a visitor's pass to attend the rally.
Madrigals/Music alumni reunion
Date: Friday, Nov 7, 2003
Time: 4:00pm to 6:00pm
Where: El Camino band room
Host: Jack Carey
Event: Pre-game party
Date: Friday,

Nov 7,

200

3


Time: 5:00pm to

11:00pm


Where:

El Camino HS cafeteria

Encina will be selling

BBQ

food and drinks for those who wish to purchase dinner.

Encina will be selling tickets to the football game for the convenience of the alumni.

Event: Homecoming game
Opponent:

Lindhurst


Time:
JV 5:00pm
Varsity 7:00pm

to 930pm


Where: El Camino High School
4300 El Camino Ave
Sacramento, CA 9582
Admission: $5
The Encina alumni have been invited by Principal Myrtle Berry to participate in the half-time activities.

The alumni are providing the convertibles for the homecoming parade.
Express your interest in the Homecoming Party using this form.
Parking. If the El Camino parking lot is full, there is also a parking lot on Eastern. If you are coming north on Eastern, you can turn right into a big parking lot before you reach the school. .

Alcohol. No alcohol please. We need to be on our best behaviour if we are to use school facilities for future homecoming parties. Encina will be providing security and violators will be spanked!

Children. Are welcome to all events.
Rally. 1100-1135 in the Encina gym. Please check in at the main office beforehand.
Pregame party. Starts at 5pm. Look for the Encina homecoming banner. Please sign the guest book, get your nametag and have your picture taken if you wish. Encina will be BBQing and selling food and drinks at the pregame party.
Nametags. There will be blank nametags for those who want them.
Classes. The cafeteria will have a eight tables set up for each five years of alumni (61-65, 66-70, etc). Look for your class banner to find your classmates. Please sign in under your class year so your classmates will know you are at the party.
Dinner. There will be tables for those who bring food to eat for dinner. Encina will be selling burgers, chips, and drinks. We will provide some snacks and munchies.
Game. The homecoming game starts at 730 in the El Camino stadium. Admission is $5 for adults. Encina will mark off a section of the home stands for alumni. This is just so alumni can find classmates more easily. You can sit anywhere you want.
Parade. The homecoming parade should start about 830. Drivers should have their cars in the parking lot by 800. Riders should go down to the parking lot behind the stadium by 800 or so. We are providing alumni cars for the Encina student royalty. Please do not try and ride in any of the alumni cars.
Remember, NO ALCOHOL OR SMOKING is allowed on campus!

Reunion committee:
Harlan Lau 73 (chair)
Steve Palmer 74

Drivers of alumni cars:
Jerry Burks 71 - Harley motorcycle with rider carrying American flag
Jerry Burks 71 - Porsche 911SC Targa
Lorna Cline Gragg 72/73 - Open Jeep
Cathy Rust Cademarti 64 - 2002 white Mustang convertible
Greg Grant 75 - Jeep
Barbara McKee Craig 65 - 1972 Porsche 914
John Yeats 63 - PT Cruiser Woody
Last updated: 3/12/09