Captain Genesia Smother Foster
Genesia has been an active duty Army officer for almost 20 years.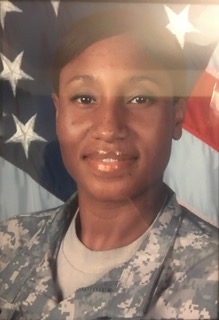 4/21/17
Jennifer Knight wrote:
Occupation: Makeup Artist-self employed
Spouse: Joseph
Children/grandchildren: 3 children
BestFriends: Liv hagman, Shawntane meadows
Hobbies: Football, fishing, boating,...
Kids: They're Amazing!
GradeSchool: Garfield
MiddleSchool: Winston Churchill
8/18/13

Jennifer Christ wrote:
Occupation: Medical Assistant
MaritalStatus: single
Children/grandchildren: Shane Christ - 12yrs old
SinceGraduation: Painting and Working in the medical field
Trivia: At age 25...I had brain surgery...No FuN!!
BestFriends: Jennifer DeFount, Devon Levy
Hobbies: Painting
GradeSchool: Charles Peck Elementry and Sequoia Elementry
MiddleSchool: Einsten Jr. High
MemorableTeachers: Michael Stevens cause he taught me everything abou painting and drawing
FavoriteMemory: Art Class
9/24/10
Larishia Faggett wrote:
Occupation: Mental Health Claims Analyst
Bio: Graduated from UC Davis, since then, livin and lovin life n family, traveling, and just doing me.
Trivia: Its pretty late while I'm doing this, so right now, don' really feel like telling you all that...BUT I will update you later :)
Friends: Allison, Adele, Joaquin, Robert (Lamotte, I remembered your last name Robert), Kiku (just got back in contact again), Cassius, Avon, Keia, Elijah, Sabrina, so many others, again to tired to recount :)
Hobbies: Traveling, singing, cooking,
Kids: Matthew is my joy, he's the most handsome, most smartest kid n the world, but of course everyone says that right? But its true :)
Grade_school: Northwood Elementary
Grade_school_friends: Angie Lubner, although she only attended Encina for a short while
Junior_high: Rio Tierra
Junior_high_friends: Kiku Parker
Memorable_teachers: Mr Luchini, cause whe was the man! Oh and Mr. McElroy, don't know why, he was just a nice guy :)
Favorite_memory: Hanging with Robert, Joaquin, Kiku n Cassius, those dudes were too much always made me smile...man how we miss Cassius :)
Alumni_in_contact: Kiku, Sabrina, n Adele
11/17/08
Joelle Justice writes:
Occupation: Sculptor
Junior_high: Well, I was kind of a loner, though I did hang out with
Christy Lopez and Nicole Milam at times.
Story: I am really on here because I went to Jonas with most of the Encina

grads of 97 and was hoping that someone would have a Jonas yearbook? If

so, and you are willing to do some scanning you can contact me on my

myspace page. I hope everyone is well and happy with life. Thanks.


5/30/08
Catherine Ramos writes:
Occupation: Reg Ast Controller; helping inflicted families cope with

Dementia such as Alzheimer's and Parkinson's
Bio: Studying, Traveling, Working
Friends: Jackie, BJ, Ed, Bina, and the crew; Ivan and Alex...wonder

where THEY are... :-/
Hobbies: Camping, Hiking, Rafting, Zip-lining, Birdwatching, Reading,

Gaming, Art Galleries, Traveling, Pilates & Yoga, Community Service,

Theatre, and Concerts
Grade_school: Jonas Salk Middle School
Junior_high_friends: Mike, Bina, Cam, Naleeni
Memorable_teachers: Monte Johnson, Mr. B, Mrs. Begg, Mrs. Woo, and Mr.

Luchini.
Favorite_memory: Being on the phone endlessly, waiting.....and STILL

waiting; prom, Denny's, hitch-hiking with CAM, Academic Decathlon, Cross
Country, HOSA and LA, working at Sutter, going to SacState that fateful

summer, Senior Year!
Alumni_in_contact: Cam Truong


3/8/08
Kevin Wilson writes:
Occupation: RT bus Driver/ Future Fishing Guide
Bio: Working, Fishing, Fishing, Working in that order.
Trivia: Been in eleven bad car accidents
Friends: Everyone
Hobbies: anything outdoors but really Fishing and Camping
Kids: none
Grade_school: Northwood
Grade_school_friends: Don't remember
Junior_high: Jonas Salk
Junior_high_friends: Everyone
Memorable_teachers:
Eric Dahlin, Real Funny
Mrs Begg, Real Nice
I liked all the teachers.
Favorite_memory: Selling Pizza Ha Ha
Story: Nothing Really, Work to much.
Sibling_info: Crazy Sister Crystal Wilson 1996
Alumni_in_contact: Rolland B.
comments: My nutty sister put in my last Bio. I'am going to get you. Ha

Ha


4/10/07
Dana Baker writes:
Occupation: Internal Auditor
Bio: I graduated with my BA in Music Industry and Public Relations. I

am currently financing my consulting business (Something Jazzy: music
industry consulting).
Friends: Carmen Garcia(who I miss dearly), Cassius Johnson,John Gomez,

Ray Brown(graduated from Burbank in 1997 but still at Bulldog at heart),

Tamesha Wright, Sherlonda Ramsey (Cherry Bomb)among others.
Hobbies: Still music and performing
Junior_high_friends: Cassius Johnson, since Jonas Salk, you'll be

missed.
Memorable_teachers: Miss. Reves-she taught me alot about music and took

that education along with me to college. She also gave me the
confidence to believe in my ability.
Favorite_memory: Friendship Day


3/13/07
JOHNSON, Cassius

Keeshawn

Passed away peacefully in his sleep January 31, 2007. Lovingly survived by his mother Evon Madden; father Keith Vault Johnson; son Cassius Johnson Jr.; brothers Keethan Vault Johnson and Wayman (Wes) Stewart Johnson; sister Branndii Johnson; stepfather John Madden; stepmother Vanessa Johnson; his fiance Angela Milino and a host of other loving relatives and friends. Visitation Tuesday, February 6, 2007 9 AM-7PM,

Thompson Funeral Home

, 3601 5th Ave. Funeral service Wednesday, February 7, 2007 11:00 AM, St. Paul Missionary Baptist Church, 3996 14th Ave., Sacramento, CA. Interment to follow at St. Mary's Cemetery & Masoleum.
Meredith Rhodes writes:
Occupation: school community intervention specialist for San Juan

Unified School District
Bio: Attending school at CSUS and working, Gruated For CSUS in fall 2004

and have been working full time since then.
Friends: They know who they are
Grade_school: Greer & Thomas Edison
Junior_high: Jonas Salk
Memorable_teachers: ALl of the Health Academy Teacher Especially Mrs.

Johnson & Mr Luchini
Sibling_info: Marcus Rhodes class of 1997


Favorite_memory: Graduating with my friends




12/12/05
John Hudson writes:
Occupation: CPA
Bio: Follow my passion in finance. Started my carrer in portfolio

lending. Endnd up with my MBA in accounting.
Trivia: Took the wrong path in life for a while. A few deaths put things

back in prospective. Life is too short.
Friends: Wow.. Good question. Julie Wolf was always kind. Al Roberts is

still close with me.
Hobbies: Running and family.
Kids: Cameron & Calista

.

Better than us all!
Grade_school: Thomas Edison
Grade_school_friends: Few, but their there.
Junior_high: Jones Salk
Junior_high_friends: A shame to say but no one. HS came and everyone

changed. People just get out of touch with their youth early on and

become something else.
Memorable_teachers: Can't remeber his name I haven't looked back in

sometime but our electronics teaher slept quite abit.
Favorite_memory: Being on EBS and not knowing. Most folks will know.
Story: Another great topic. To much dirt to list.


11/21/05
Tara Denney writes:
Occupation: Medical Record Tech/Data Entry Clerk
Bio: I haven't been doing a lot. After school I went to San Jose Job Corps for Clerical and Accounting. When to ARC for two years for Sign Language. Had fun. I got married on December 5th, 2003 to Terrance Williams (Class of 96' ). We've moved around alot. We lived in San Antonio, Tx, then we moved to Phoenix, Az for a moment and now we're back in California hopefully for a while. Other than moving and working haven't been doing much.
Trivia: I married my highschool sweet heart. Who would have thought we would have lasted this long. (ME) on and off for 9 years
Friends: I had a lot of friend and the real ones know who they are just like the fake ones know who they are. If anyone reads this and know how to get in touch with Tyronda Hogan or Jessica Mitchell please tell them to call me.
Hobbies: Like reading, listening to music, traveling, watching movies
Kids: I don't have any kids but I do have a pet rabbit named Kiwi she's 6 months. she's just as bad as a kid.
Grade_school: Jedediah Smith
Junior_high: California Middle School
Junior_high_friends: none they all went to McClathy High
Tamaya Mathis, Kisha Byrd, Shalome Hill
There were more but these are all I care to remember
Memorable_teachers: Ms. Johnson 11th grade English. She was just the best. Believed in you when no one else did. Thank you. Eric the ceramics
teacher. His class was just fun.
Favorite_memory: Meeting my husband the way I did. All the drama I had to go through. All the back stabbing and people lying in my face. I just want to thank the people for the drama. Because if it wasn't for the drama it might not have turned out this way, my last name might not be Williams. Also I
have to say Graduation Day. Just because those of us who graduated made it. Alot of people didn't and don't make it as far as we did.
Story: All the stories I have are secrets
11/11/04
Lucianna Fraser writes:
Occupation: Housewife
Bio: Working, going to school, and travelling
Trivia: Got married to Jonathan Hargis which I dated back in high school

after not seeing each other for 6 years. Started dating again February 2004
and got married May 2004. We share two children ages 2yrs and 5 yrs.
Hobbies: Swimming, singing, reading, sewing and baking.
Kids: Kiernan-lynn is 5 years old and starts kindergarten this August.

Shorter version of me with way more energy and loves to sing. Tempest Starr
is 2 yrs old as of August 16, 2004. Her attitude reflects her name but she

has her sweet moments. She makes life interesting if not hectic
Memorable_teachers: Mr. Luchini because he always mispronounced my name and

Mr. B because he would crack me up when all I wanted to do was sit and sleep
Sibling_info: Danica Fraser- class of 1999 (soon to be Sorber on 8/14/04)


8/10/04
Julio Semano writes:
Occupation: tech
Bio: working my ass off :)
Friends: all people that knew me were cool, diablo,pechugas,angel,amador and

more peps.........
Favorite_memory: cant say it...


5/23/04
Sabrina Prothero writes:
Occupation: i teach special education. 2nd grade
Bio: after graduation i basically did my own thing. got my own place, you the basic thing any 18 wanted to do. then after a year of having fun i went
back to school and started working in a special ed school in el dorado hills. not too bad considering what i was like in high school.
Friends: holly harris, mindy aguirre, cam troung, catherine ramos, adele grey. every now and then holly and i will see each other somewhere. cam and
i talk at least twice a month, everyone else i've lost contact with but i think thats my fault.
Hobbies: lately its been writing reports on my students and attending iep's. so nothing too fun.
Kids: no kids yet but it in the works.
Grade_school: ill be going baack to school in the fall i need alittle break. im around school way too much.
Junior_high: jonas salk
Junior_high_friends: mindy, cam, catherine, adele
Memorable_teachers: mrs. johnson and mr. l they never gave up on me even when i did.
Favorite_memory: all of them!
4/28/04
Tamesha Wright writes:
Bio: I went to Heald Businees College..(big mistake)...Graduated from there

in 1999.....Been working ever since.
Friends: My best friend was Lakeisha Wilson.....I have lost contact with her

but I am trying to find her...I was also friends with Kia, Larisha, DeRob,
Dana, Elijah,.....could be more, but I don't remember....it's been a long

time.
Kids: I have one child.........a baby girl named Nevaeh.......she was born

on 01/26/2003
Grade_school: I went to Cottage Elementary School
Junior_high: Jonas Salk
Junior_high_friends: Dana, DeRob, Shelly


2/25/04
Romeo Farinacci writes:
Occupation: Electrical Engineer
Bio: Lots of traveling for the Government. England, Scottland, S

audi

Arabia, Iraq, Qatar, Ireland, Italy, Germany, Frnace, and many more.
Working as an aircrew member for the Air Force. Now currently back in

Sacramento, CA.
Trivia: Name change due to clearnace in the military.
Friends: Catherine Ramos, Sabrina Prothero, Julie Wolfe, Dianna Becerra, and

Dan Cosgrove.
Hobbies: Computers, Mathematics, Card Magic, and traveling.
Grade_school: Completd college at Hawaii Pacific University (class of 2002)
Grade_school_friends: Michael Adams
Junior_high_friends: Catherine Ramos, Y-tarch Hayes, Catherine Stevens,

Naleeni Chandra, Cam Troung
Memorable_teachers: Mrs. Begg, and Mr. McElroy. Loved Mathematics and

Academic Decathlon, didn't realize how much those two classes alone helped

me.
Favorite_memory: Academic Decathlon, Track, and Cross-Country.


2/8/04
Kirsten Todd writes:
Boyan and I have been together for 6 years, 8 1/2 months. Boyan and I got

engaged on May 8th 2003.We will hopefully be married in 2005 (Summer). We

have a daughter named Kaydan Alizabeth. She was born Oct. 1st.,2002. She is

Boyan's identical twin.
I am currently attending University of Phoenix. My major is Business

Administration.
All in all, my life is right on track, and I wouldn't have it any other way.


12/30/03
Rebekah Compton writes:
Occupation: U.S.P.S mail carrier
Bio: I went to AR for 2 years and worked back at Encina with Mrs. Gault who

married Mr. Drawbert. I loved that job working with the Reading program but

then I needed time off to get married. So I quit and went to Hawaii and got

married and then chilled for a couple months then took a test to work at the

Post Office and passed so now I am there and I like it. Someday I want to

go back and work with the English Second Language Department.
Trivia: Went to Russia 3 times, Ukraine twice. Leaned Russian really,

really good then married a Filipino and now I have to learn Tagalog and eat
rice everyday!
Friends: I lost contact with everyone!!! Johnny and Valerie I've known

since Harmon Johnson back in the heights. But I would have to say that
Elizabeth, Kim, Joel, Dan cozgrove, and my sister Jojo were my pals.
Hobbies: Going to the gym.
Kids: No children yet!!!
Grade_school: Harmon Johnson
Grade_school_friends: Val, Johnny, Danny Tremper, Jaime, Michelle
Junior_high: Natomas
Junior_high_friends: I don't remember anyone from Natomas being at Encina
Memorable_teachers: Kirene and the Business academy teachers.

Freedman coz we worked together for 2 more years and he came to my wedding

reception.
Favorite_memory: Mr. Epps Gov/Econ class making fun of each other with

Mandel, Johnny, Terrance and the rest of the biz-tech bunch.
Story: I want to know all about you guys and when the reunion is going to

be.


8/5/03
Valerie Smith writes:
Occupation: PARALEGAL
Friends: MEL, JENNIFER
Kids: NO KIDS YET


7/22/03
Jennifer Christ writes:
Occupation: MEDICAL ASSISTANT AND A RESEARCH STUDY COORDINATOR
FOR CROHN'S DISEASE
Bio: WELL, I HAVE CHANGED ALOT SINCE HIGH SCHOOL...ALTHOUGH I HAD TO LEAVE ALL MY OLD FRIENDS BEHIND, INCLUDING MY BEST FRIEND OF 5-6 YRS...IT WAS THE ONLY WAY I COULD HAVE CHANGED MY LIFE TO THE WAY IT IS NOW!!!
I AM A MOTHER OF AN ALMOST 5 YR OLD BOY-ANYWAY,I'M ACCOMPLISHING MORE THAN I EVER THOUGH I COULD...I'M A MED. ASSIST. AT UC DAVIS(I WORK IN 8 CLINICS FOR 88 DOCTORS) AND I'M ALSO THE RESEARCH STUDY COORDINATOR FOR CROHN'S DISEASE(BASICALLY I DO ALL THE DIRTY WORK FOR THE DOCTOR) I'M ALSO CURRENTLY IN SCHOOL GOING FOR MY BACHELOR'S IN NURSING... MY GOAL IS TO BECOME A TRAUMA NURSE AND EVENTUALLY I WOULD LIKE TO GO BACK TO MEDICAL SCHOOL AND BECOME A DOCTOR OF EMERGENCY MEDICINE... BUT THAT'S DOWN THE ROAD A LITTLE... THAT PRETTY MUCH SUMS IT UP!!! I AM STILL PAINTING AND HAVE DONE SEVERAL PAINTINGS SINCE HIGH SCHOOL... I WAS JUST RECENTLY COMMISIONED TO DO A PAINTING FOR UC DAVIS HOSPITAL SO FOR RIGHT NOW I'M WORKING ON THAT... BUT I STILL LOVE TO PAINT AND GREATLY APPRECIATE MR.STEVENS FOR HELPING ME AND BELIEVING IN ME FOR ALL MY TALENT...ONE DAY I WOULD LOVE TO TELL HIM THAT!!!!
Trivia: I NO LONGER HAVE ANY CRAZY PIERCINGS...I GREW OUT OF IT...ALTHOUGH MY TWIN SISTER I THINK GREW INTO IT...BECAUSE SHE NOW HAS 6-8 PIERCINGS AND 5 TATTOO'S...IN HIGH SCHOOL SHE WAS THE GOODIE GOODIE AND I WAS THE ECCENTRIC ONE...NOW WE SWITCHED!!! SHE'S STILL PRETTY GOOD THOUGH
Friends: MY BEST FRIEND IN H.S. WAS JENNIFER DEFOUNT (FUR FUR)AND DEVON LEVY. I DON'T SPEAK TO JENNIFER ANYMORE FOR REASONS OF MY OWN AND HAVE LOST TRACK OF DEVON AND PRETTY MUCH EVERYONE I WENT TO SCHOOL WITH!!! I DO SPEAK TO MEGAN PATTERSON...WHO JUST HAD A BABY IN NOV. BUT THAT'S ABOUT IT!
Hobbies: I STILL LOVE TO PAINT AND DO ALL TYPES OF ART.
Kids: MY SON IS ALMOST 5 YRS OLD AND VERY DRAMATIC. HE JUST ENDED A SEMESTER AT A CHILDREN'S THEATRE WHICH WAS VERY CUTE AND HE DID AN GREAT JOB...HE IS A HANDFUL THOUGH BUT VERY MUCH WORTH IT!!!!
Memorable_teachers: MR.STEVEN'S- HE WAS ONE OF THE GREATEST THINGS THAT EVER HAPPENED TO ME...HE TAUGHT ME SO MUCH ABOUT ART AND WAS ALSO ONE OF MY GOOD FRIENDS IN H.S.


1/12/03
Cherylonda Ramzy writes:
Occupation: Full-time Student; HR Intern
Bio: Since graduating hish school I have been in Las Vegas and Dallas Texas. I went to UNLV for a year. Then I tranferred to a UT School in Texas. I now have a Bachelor's in Human Resources, and I graduated Magna Cum Laude (3.80 GPA). After graduating this past August, I decided that I wanted to become a physican. So, I am taking classes towards med school, and I plan to take the MCAT in about a year. In the mean time I am using my Bachelors to fund my way through school.
Trivia: I am engaged with my fiance of over 2 years. I am still best friends with Ayona McCullough and Leila Alexander. Ayona is here in Teaxas with me. And Leila is in the military with one year left to serve.
Friends: I was and still am best friends with Ayona and Leila. I lost contact with Joel Gomez (who I still miss) and Dan Cosgrove.
Hobbies: I play raquetball, hang out with my buddies, drink (socially), talk on the phone, club, and sometimes attend frat parties.
Kids: I never, ever, ever, ever, want any kids
Memorable_teachers: I really liked Mr. Luchini, Mr. Sasse, and Ms. Johnson.
Favorite_memory: All the good times I had with my friends and associates at Encina.
9/28/01
Sione Pupunu writes:
Occupation: Aviation Electrician's mate USN
Bio: SAILING THE SEVEN SEAS.
Hobbies: ART/MOTORCYCLES
Grade_school: FAIRBANKS
Junior_high: MARTIN LUTHER KING JR.
Favorite_memory: THE RIOT
9/9/01
Robert Lamotte writes:
Occupation: model/ body builder
Bio: well since "graduation" really i've been working on my pecs and biceps and basically just staying fit. I make my living with my body so i have to keep it looking good.
Trivia: well a lot of people probably dont know but i have had two layouts in playgirl i was the centerfold in may of 2000 and i have done numerous other magazines.
Friends: my dogs were joaquin and kiku and they are doing fine. Kiku is a male stripper at a gay bar downtown and joaquin is a bouncer at the x-rated movie theatre on watt ave. also i would like to say thanks to larisha for forgetting my name.
Kids: i dont have any kids yet. but im willing to try so just hit me up on the email.
Grade_school: Herman Leimbach
Grade_school_friends: i dont have any friends from grade school that went to encina but joaquin claims he went to leimbach but i didnt know him.
Junior_high: samuel jackman
Memorable_teachers: my most memorable teachers at encina would have to be Ms. Johnson and Ms. Hurley because they had to put up with a lot of stuff from me. Ms. Ohori, Sonya and Richard are also my most memorable teachers because they had to put up with me too.
Favorite_memory: My favorite memory from encina Hmmm..... i have a lot of those a lot of them wouldnt be appropiate to discuss on here but the riots are one of my favorite memories and going to the state championship would of been if they wouldnt of.... well i'll leave that alone.
Alumni_in_contact: joaquin pons, kiku parker
Heard_about_website_from: joaquin and kiku
2/25/01
Holly Harris writes:
Occupation: Office Manager for Comcast advertising and sales.
Bio: Since graduation I have been going to American River where I was taking nursing classes, but since have changed my major to business administration. Currently I am taking a semester off while planning my June wedding to Anthony Brandt. My Maid Of Honor will be my loving sister Karrie who will graduate from Encina spring of 2001 (Doesn't that make you feel old?) In 1998 I went to England and Paris to see Anthony who was studying abroad at the time. Anthony is a Junior at CSUS and is majoring in broadcast communications.
Friends: My best friends in high school were Sabrina Prothero, Adele Gray, Kim Thompson, Jeremy Fisher, and Randy Gray. I have lost contact with Jeremy, and Randy. I talk to Sabrina about once every six months because she tends to drop off the face of the earth. Sabrina told me that she is engaged to be married the same day as me.
Hobbies: I still enjoy swimming, but I no longer compete. I have been learning the art of golf for about a year and I have also been learning tennis. Most recently I have taken on the challenge of ballroom style dancing.
Kids: I currently have no children but I hope to start having children within the next year in half. I would like to have four children but don't think I want to go through labor four times, so Tony and I have decided to adopt two of the four.
Grade_school: Thomas Edison and Babcock
Grade_school_friends: Kim Thompson is the only person I can remember going to grade school with.
Junior_high: Rio Tierra Junior High School
Junior_high_friends: Kim Thompson and I went to the same Junior High, but didn't really talk to each other then.
Memorable_teachers: I'd love to mention everybody, but I really don't feel like typing all of that right now. All of the Health Acamdemy teachers along with Mrs. Motter and Mr. Kierren.
Favorite_memory: My favorite memories from Encina are all the cheerleading performences, games, rallies and etc. that I participated in. Especially when the basketball team went to the playoffs!
Sibling_info: Karrie Harris (sister '01)
Alumni_in_contact: Adele Gray and Sabrina Prothero
Heard_about_website_from: Through my sister Karrie
1/17/01
Valerie Smith writes:
Occupation: Asst. Manager
Bio: working like crazy, going to school for paralegal studies
Friends: ceci, abby, corn-dog
Hobbies: volleyball
Kids: none but my younger sis (Amy 99) has a lil boy
Grade_school: johnson elem. rio terria jr high
Junior_high: jennifer rogers, abby I
Favorite_memory: everything, high school was cool.
Sibling_info: Johnny Smith -97, Amy Smith -99
Heard_about_website_from: Melissa P-96
1/9/01
Adele Gray writes:
Occupation: Motivational Speaker/Tour Guide
Bio: Since graduation I have been attending CSU, Sacramento. It is my fourth year at Sac State and I am majoring in psychology. I have about a year before I receive my first degree, but then i would like to receive a masters in counselor education. During my first year at Sac State I joined Delta Gamma, a sorority, and have continued to stay involved around the community. Currently I work as a tour guide at CSUS. I give tours and motivational speeched on the importance of attending college to high school students.
Friends: My closest friends were Allison, Keia, Larishia, Holly, Katie, Kim, and Chad. I still talk to Chad, Katie, and Holly often. Kim is very busy, but when she is in town we usually meet for lunch to catch up on all the gossip.
Hobbies: I like to go out with my friends and go dancing. I am also on my computer quite often.
Kids: I do not have any kids yet and I do not plan on having any for at least another five years.
Grade_school: Greer
Grade_school_friends: Randy Gray and Shabnam Chand
Junior_high: Jonas Salk
Junior_high_friends: Too many to mention.
Memorable_teachers: There were a lot of memorable teachers for me (maybe that is why I was nominated teachers pet). I would say that Mr. Luchini, Mrs. Johnson, Mr. Brodnansky, Mr. Sasse, Coach Hibbard, and Mr. Soto. Mrs. Motter was a counselor but she was also very important to me. These people all taught me how to be real and also were more like friends than teachers.
Favorite_memory: The basketball team making it to playoffs my senior year and getting to cheer at The Pond in L.A.
Alumni_in_contact: Randy Gray, Mindy and Marie Aguire, Holly Harris, Rudy and Robert Deporto, Kritter, Damon Pohill, David Winston, Chad Crall, Kim Thompson, Tasha Elliot, Carin Wilson, and Katie Mensch.
Heard_about_website_from: My mom
12/26/00
Larishia Faggett writes:
Occupation: Pharmaceutical Sales Representative
Bio: Since graduation, I've been a student at U.C. Davis, majoring in Biological Science. Praise God that I don't have children as of yet, but I am engaged to be married!
Friends: My best friends were Adele Allison, not to mention, Kiku Parker, Joaquin Pons, Robert Whats-his-name, and...I forgot!
Hobbies: For recreation I try to travel a lot during school breaks. My job also requires that I travel a bit, out of town, so I take advantage of that also. Those who knew me knew that I was activly involved in my church, good news...I still am!
Kids: None as of yet...Thank Jeevus!
Grade_school: NorthWood Elementary
Grade_school_friends: Angie Lubner went to grade school w/me, but she was only at Encina for a short while.
Junior_high: Rio Tierra JHS
Junior_high_friends: Kim Thompson, Angie Lubner, and a host of others that are too many to name, also went to Encina from Rio
Memorable_teachers: The most memorable teachers were Mr. Luchini, and Mr. Guba. I say this 'cause they always kept it real!
Favorite_memory: My favorite memeory would have to be...the football games!
Heard_about_website_from: Dyanne Thompson, c/o 80 something!
12/20/00
Kirsten Todd writes:
Friends: I was best friends with Loree Scheiman since our Junior year of high school, and we are still friends to this day!
Memorable_teachers: Mr.Luchini and Mrs. Johnson. Who did not love those teachers.
Favorite_memory: Prom. I will NEVER forget who I went to prom with... Boyan Tassev and we are still together!
12/3/00
Loree Scheiman writes:
Occupation: Patient Service Rep
Bio: Moved to Washington in January 98.
Friends: Kirsten Todd. I'm still in contact with her. I see her all the time.
Junior_high: Will Rogers Junior High School
Favorite_memory: Graduation.
Alumni_in_contact: Kirsten Todd. 1997.
Heard_about_website_from: My mom 1979
11/29/00
Nimisha Ambaram writes:
homepage: www.csus.edu/~sac72395
Occupation: chemistry technician
Heard_about_website_from: sister
6/5/00
Kim Thompson writes:
Occupation: student at Cal State Long Beach
Bio: I have been going to Long Beach State studying Communication Studies and Marketing.
Grade_school: Babcock Elementary School
Junior_high: Rio Tierra Junior High School
Sibling_info: Rhett Thompson 95
Heard_about_website_from: from my brother
reunion_committee: I would like to be part of the reunion committee along with Elizabeth Barger and Adele Gray.
1/18/00