First Annual Encina Alumni Soccer Game
Date: Friday, May 2, 2009
Location: Encina
Men's game: 1pm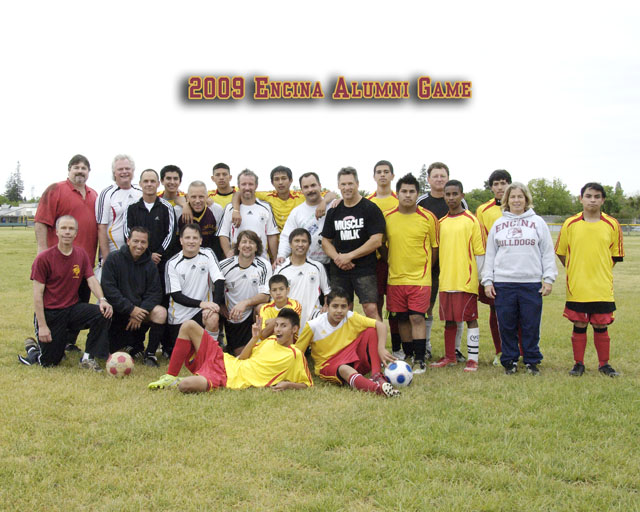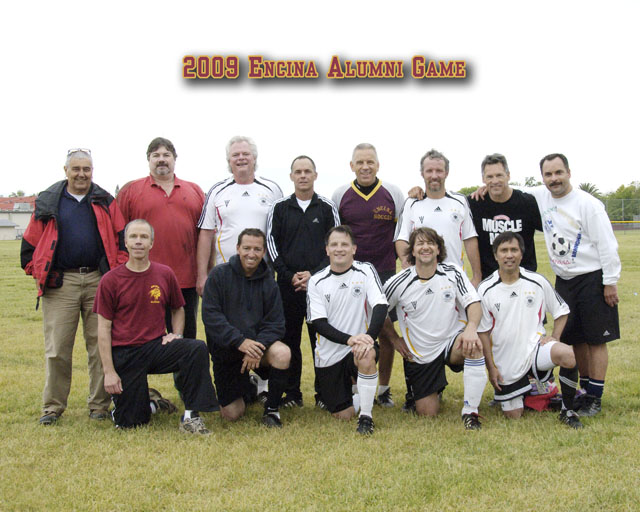 Alumni soccer team
Front row: Scott Roberts, George Champayne, Dave Smith, Brian Bender, Layne Esquerra.
Back row: Laverne, Darrell Beddard, Bruce Roy, Jon Carlson, Roger Bailey, Tibor Pelle, Kevin Stewart, Carey Stewart. 
Not pictured: Erikson Ramirez, Nestor Gutierrez, and Referee Kim Tierney


2009 ALUMNI SOCCER GAME REPORT

Coach Buchmiller and myself would like to sincerely thank everyone who attended the Alumni Soccer game.  We didn't know what to expect, and we couldn't have asked for more. The Boys Varsity, the Alumni, Kim Tierney, the spectators, family and friends all deserve extra credit.  It was a typical English summer day, cold, wet and raining.  Conditions were pretty bad, but for those who turned out for the game, both soccer and school were well represented. 

The Varsity team was a fine group of young men, displaying both skill and poise on the field. The Alumni was a group of fine (not) young men also displaying skill and poise on the field.  Coach Buchmiller played in goal for the Varsity.  The Alumni had Kevin Stewart and Darrell Beddard playing in shifts throughout the game.  The goalie play was spectacular, each one had several great saves, inspiring players on the field as well as the fans on the sidelines.  There was plenty of good natured jaw-boning on the field and hootin' and hollerin' from the sidelines.  Speaking as a player, it was great!

Did I mention- no injuries were reported during the game!

Special thanks go to our Alumni refereee, Kim Tierney.  I think he called a perfect game, which is not always easy when refereeing a friendly match.  I think the Varsity actually won, but we'll have to check with him for the final score.  It seemed like nobody was ready to end the game.  We were cold, soaking wet and tired.  Kim would ask, "How many more minutes do you want to play?".  Some one would say, five minutes, and we'd play a little longer.  Kim would ask again, and we'd play a little more...  After repeating this a few times, the whistle finally blew, thankfully.  Then came the penalty kicks.  (Like I say, I thought the Varsity was ahead)  Next thing I know, we're lining up for PK's.  I know we did more than five from each team, again we will have to get the game statistics from Kim. 

It was that kind of game.  A bunch of kids playing soccer, and having a great time.  The score wasn't that important.

Again Coach Buchmiller and I would like to thank everyone involved.  Former Coach Laverne Gonzales was kind enough to join us on the sidelines, with camera in hand.  I'm sure we can get a link to his pictures soon.  To the ladies, please get in touch with any of your classmates, we would love to have both a gentlemens' and ladies' games next year.  Hopefuly this will continue well into the future and become tradition, a reunion of sorts with soccer games going on in the background.  The Fun and Enthusiasm on display last Saturday got things off to a good start.  Hopefully the sun will shine on us next year and we can all come back to Encina and do it again!

The Alumni Players:

Scott Roberts
David Smith
Jon Carlson
Erikson Ramirez
Nestor Guiterrrez
Roger Bailey
Layne Esquerra
Darrell Beddard
Brian Bender
Kevin Stewart
Carey Stewart
Tibor Pelle
Juan
George Champayne
Bruce Roy

Referee report:

It was a pleasure to referee the alumni/varsity soccer game May 2. It was even more a pleasure when the rain stopped! I was equally impressed with both teams. The Encina team is very skilled and played with a great deal of sportsmanship. They were sure to help each one of the alumni players up, after each crash to the field. And there were a few! The alumni team was equally impressive with their skills, and sportsmanship. They only lacked the stamina to keep up with the teenagers. For the most part, the game was very competitive, and both sides appeared to be having a great time. The teamwork and passing on both sides was a pleasure to see. Hopefully, this will become a regular event, and with a little cooperation from mother nature, we'll get more fans out to watch.

Kim Tierney '78
We are set for Saturday, May 2, 2009 at 1:00 p.m.  There was hope that Coach Buchmiller could have filled out the ladies game with players so we could have both gentlemens and ladies games.  This year we will have only a gentlemens game.  Coach Buchmiller and I extend sincere thanks to the alumni ladies who responded.  Please check back next year, and contact any of your former teammates, as we would like to increase the awareness among ladies alumni about the games.
The gentlemens game will begin at 1:00 p.m.  Gatorade will be provided for the players.  Alumni are to wear black shorts and white socks.  I have a set of the German world cup white jerseys for the alumni men, courtesy of the Turn Verein soccer club.  These are not the current world cup set they are the previous style, but they are quality.  An effort to contact former coach LaVerne Gonzales is under way, as well as Marcos Mercado, Tibor and Peter Pelle.  We could use someone to run the substitutions from the sidelines, in the event we can't get Coach Gonzales.  Volunteers will be appreciated.  We will play two 45 minute halves.  Due to the age of some of us senior citizens there will be no slide tackling in the game.
We will play rain or shine.  We will only cancel play if player safety is at risk.  The field is dry so it would have to rain pretty hard to saturate the fields to unplayable conditions.
Spectators, family and friends are welcome and encouraged. 
I would like to extend my personal thanks to Harlan Lau for all that he has done to bring about the Encina alumni website and email.  This truly is technology making our lives better and communication for a large diverse group of people as simple as typing.  Thanks for your time and effort, Harlan.
See you at the game!
Bruce Roy '76 (bbkroy@comcast.net)

Players: Ladies

Jeri Deyo McCue  '79
Emily Marchant West  '85
Amy McClelland Killer '86
Cathy Bender Miller '86
Players: Gentlemen

Scott Roberts '75
Jim Burke  '76
Jon Carlson  '76
Bruce Roy  '76
Roger Bailey  '79
Archie Ciotti '80 (from New York)
Dave Smith  '80
Greg Grant  '75
John Alexander  '75 
Ryan Norris '89
Samuel Brewer '92
Nestor Guitierrez '95
Erikson Ramirez '96
David Villegas '97
Last updated: 09/08/2015