Encina High School Class of 1972 homepage
[ Bios ] [ In Memoriam ] [ Grade School ] [ Graduation Program ] [ Tomahawk ] [ Photos ] [ 20 year reunion ] [ 25 year reunion ] [ 30 year reunion ]
40 YEAR REUNION

Saturday, June 2, 2012
4:30 pm to Midnight

The Dante Club
2330 Fair Oaks Boulevard
Sacramento, CA
916-925-8230

$50.00 Per Person In Advance
$60.00 Per Person At The Door
Buffet Style Dinner
No Host Bar
Casual Attire

We would like to extend an invitation to our teachers to attend our 40th Reunion as guests.
Please feel free to make a donation in their honor!

Contact Will Gunter at wgunter14@comcast.net or 916-284-7683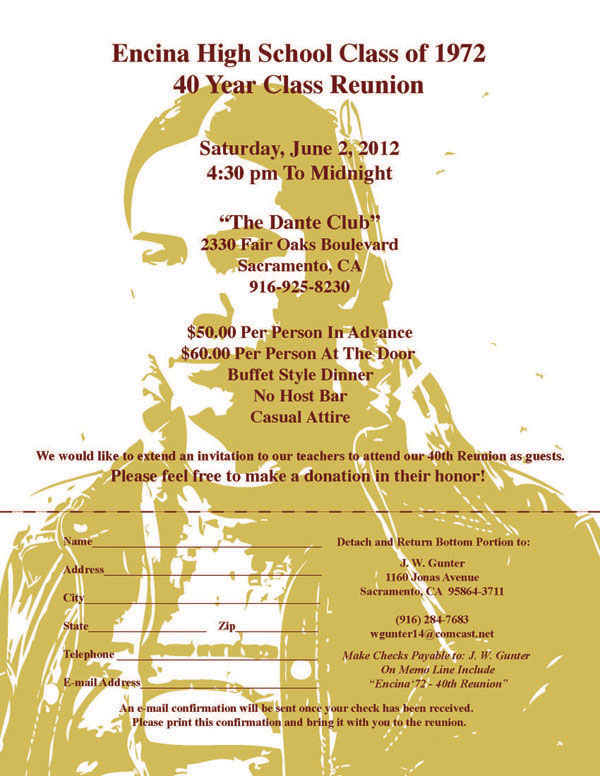 Reunion contact: Will Gunter (wgunter14 at comcast dot net)
The 1972 Class Directory lists contact information for your classmates. Please submit your contact information.
Your class does not have a webmaster at the present time.
Submit contact information for class directory
Top Hits
Do you remember Archie Bell & The Drells, Bobby Goldsboro or The Lemon Pipers? If not, you should know that they all had number one songs on the Billboard chart sometime between 1968 and 1972 according to Lyrics World. We thought you would find the complete list entertaining.
1972
Alone Again (Naturally) - Gilbert O'Sullivan
American Pie (Parts 1 & 2) - Don McLean
Baby Don't Get Hooked On Me - Mac Davis
Ben - Michael Jackson
Black and White - Three Dog Night
Brandy (You're A Fine Girl) - Looking Glass
The Candy Man - Sammy Davis, Jr.
The First Time Ever I Saw Your Face - Roberta Flack
Heart of Gold - Neil Young
A Horse With No Name - America
I Am Woman - Helen Reddy
I Can See Clearly Now - Johnny Nash
I'll Take You There - The Staple Singers
Lean on Me - Bill Withers
Let's Stay Together - Al Green
Me and Mrs. Jones - Billy Paul
My Ding-a-Ling - Chuck Berry
Oh Girl - The Chi-Lites
Papa Was a Rolling Stone - The Temptations
Song Sung Blue - Neil Diamond
Without You - Nilsson
1971
Brand New Key - Melanie
Brown Sugar - The Rolling Stones
Family Affair - Sly & The Family Stone
Go Away Little Girl - Donny Osmond
Gypsys, Tramps & Thieves - Cher
How Can You Mend a Broken Heart - The Bee Gees
I Feel the Earth Move - Carole King
Indian Reservation (The Lament of the Cherokee Reservation Indian) - The Raiders
It's Too Late - Carole King
Joy to the World - Three Dog Night
Just My Imagination (Running Away with Me) - The Temptations
Knock Three Times - Dawn
Maggie Mae - Rod Stewart
Me and Bobby McGee - Janis Joplin
One Bad Apple - The Osmonds
Theme from "Shaft" - Isaac Hayes
Uncle Albert / Admiral Halsey - Paul McCartney
Want Ads - Honey Cone
You've Got a Friend - James Taylor
1970
ABC - The Jackson 5
Ain't No Mountain High Enough - Diana Ross
American Woman - The Guess Who
Bridge Over Troubled Water - Simon & Garfunkel
Cracklin' Rosie - Neil Diamond
Everybody Is a Star - Sly & The Family Stone
Everything Is Beautiful - Ray Stevens
For You Blue - The Beatles
Hello Darlin' - Conway Twitty
I Found That Girl - The Jackson 5
I'll Be There - The Jackson 5
Isn't It a Pity - George Harrison
I Think I Love You - The Partridge Family
I Want You Back - The Jackson 5
Let It Be - The Beatles
The Long and Winding Road - The Beatles
The Love You Save - The Jackson 5
Make It with You - Bread
Mama Told Me (Not to Come) - Three Dog Night
My Sweet Lord - George Harrison
Raindrops Keep Fallin' on My Head - B.J. Thomas
The Tears of a Clown - Smokey Robinson & The Miracles
Thank You (Falettinme Be Mice Elf Agin) - Sly & The Family Stone
(They Long to Be) Close to You - The Carpenters
Venus - Shocking Blue
War - Edwin Starr
1969
Aquarius / Let the Sunshine In (The Flesh Failures) - The 5th Dimension
Come Together - The Beatles
Crimson and Clover - Tommy James & The Shondells
Daddy Sang Bass - Johnny Cash
Dizzy - Tommy Roe
Everyday People - Sly & The Family Stone
Get Back - The Beatles
Honky Tonk Women - The Rolling Stones
I Can't Get Next to You - The Temptations
In the Year 2525 - Zager & Evans
Leaving on a Jet Plane - Peter, Paul & Mary
Love Theme from "Romeo & Juliet" - Henry Mancini & His Orchestra (instrumental)
Na Na Hey Hey Kiss Him Goodbye - Steam
Someday We'll Be Together - Diana Ross & The Supremes
Sugar, Sugar - The Archies
Suspicious Minds - Elvis Presley
Wedding Bell Blues - The 5th Dimension
1968
Grazing in the Grass - Hugh Masekela
Green Tambourine - The Lemon Pipers
Harper Valley P.T.A. - Jeannie C. Riley
Hello, I Love You - The Doors
Hey Jude - The Beatles
Honey - Bobby Goldsboro
I Heard It Through the Grapevine - Marvin Gaye
Judy in Disguise (with Glasses) - John Fred & His Playboy Band
Love Child - Diana Ross & The Supremes
Love Is Blue (L'Amour Est Bleu) - Paul Mauriat & His Orchestra
Mrs. Robinson - Simon & Garfunkel
People Got to Be Free - The Rascals
(Sittin' on) the Dock of the Bay - Otis Redding
This Guy's in Love with You - Herb Alpert
Tighten Up - Archie Bell & The Drells
Last updated: 3/12/12