10th Annual Encina Alumni Challenge
Date: Friday, April 23, 2010
Final score: Varsity win 71-65
This year we raised over $34,000 for Encina!
The alumni lost a heartbreaker...
After leading by as much as 17 points in the third quarter, and by 13 points with 5:34 left in the fourth quarter, the alumni were unable to handle the relentless full court press of the varsity team. Forcing turnovers, they whittled away at the alumni lead, finally taking the lead for the first time with 1:50 left in the game. The alumni fought back, with Erickson Aquino 95 making 4 straight free throws to tie the game 65-65 with 42 seconds. But more turnovers forced the alumni to foul and the varsity won 71-65.
[ Pledges ][Photos][ Alumni challenge pledge form ][Testimonials]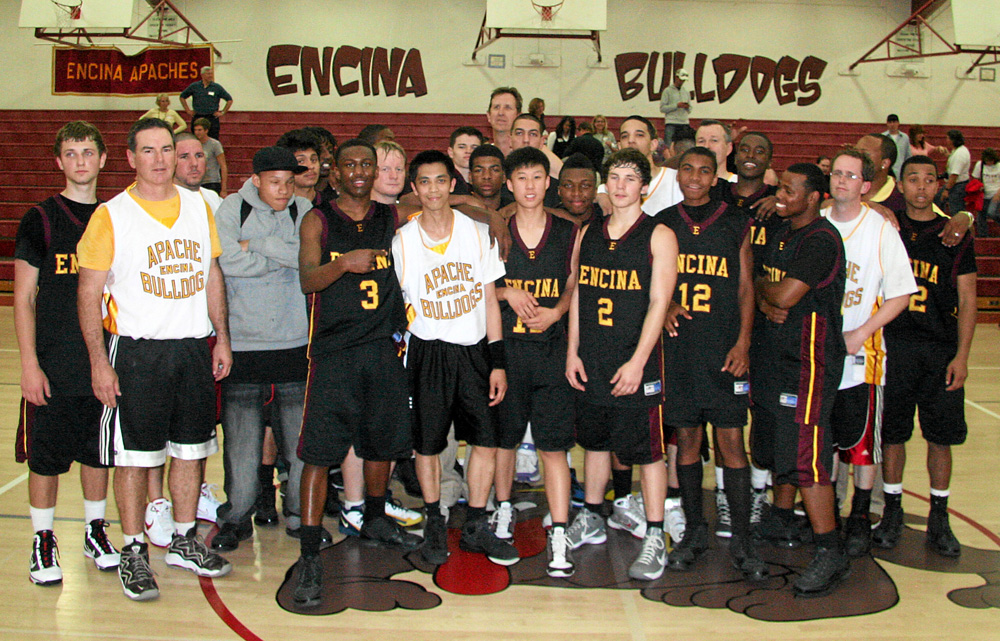 Alumni and varsity teams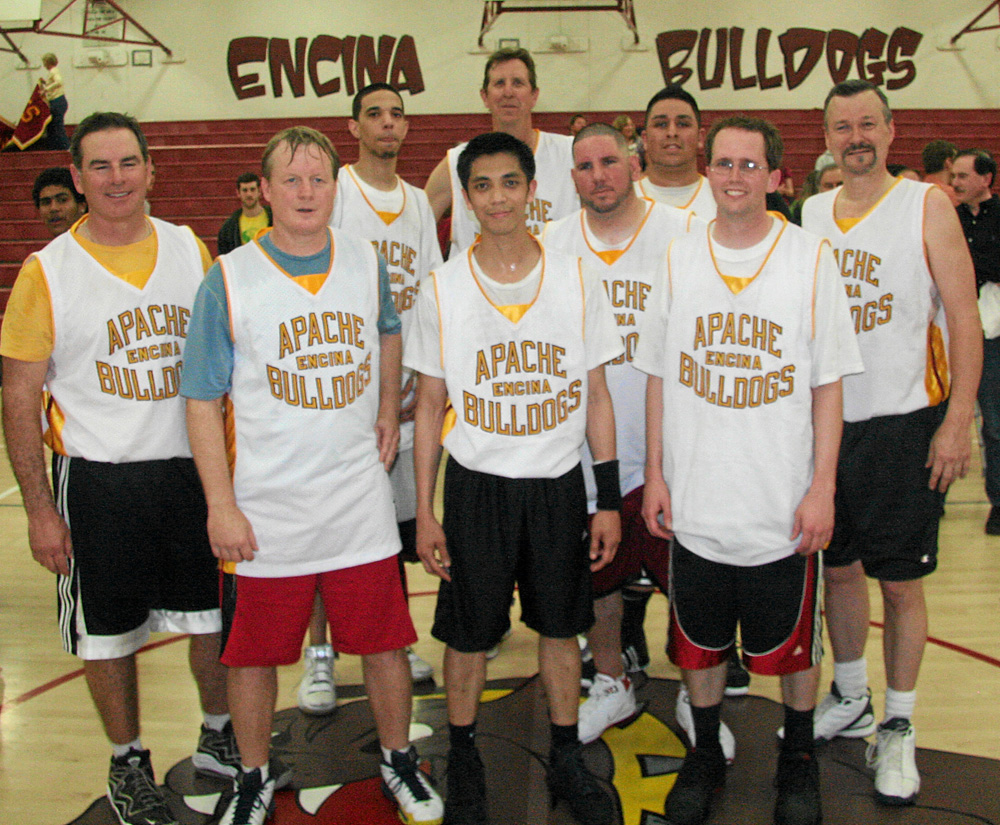 Alumni team
Front row: Mike Martis 77, Bob Hutchinson 81, Erickson Aquino 95, Matt Baggs 04
Back fow: Brian Fraser 03, Chris Dahlberg 80, Randy Wasserman 94, Manny Rojas 04, Bob Goosmann 74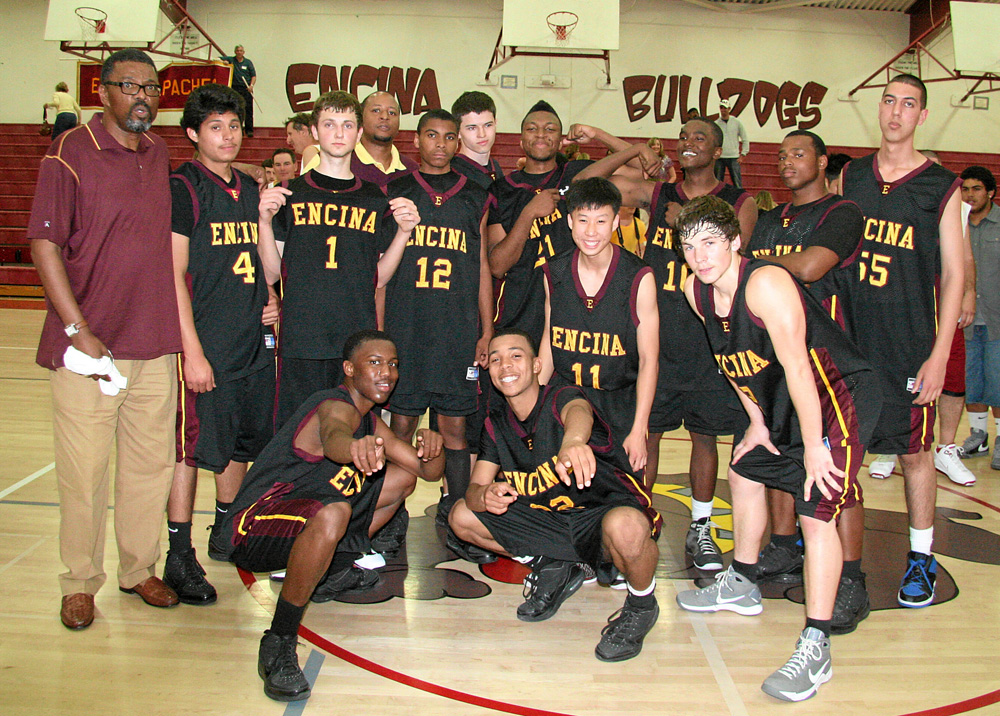 Varsity team
Coach Freddie Bryant, Andre Bolsun #1, Cody Avers #2, Clarence Hawkins #3, Eddie Cheesman-Hernandez #4, Lorenzo Runnels #10, Viet Nguyen #11, Anthony Terry #12, Jason Rodriguez #14, Tyler Kroneberger #15, Kerrie Walubengo #21, Eli Hudson #22, Tre'vonn Tyler #23, Mohamad Aladin #55
---
Hard to believe it's been 10 years since we started the Alumni Challenge.  What's most amazing is the generosity of the Alumni, even during these difficult economic times.  I know I speak for everyone involved with putting on the event when I say thank you, thank you, thank you.
 
As for the game itself: yes, I know I guaranteed that the Alumni team would win.  But what I really meant was that we would win the first half, which we did handily. 
You would think that after 10 years we'd figure out how to break a full-court press...actually, we always have a plan to do just that, but the excitement of the game tends to overwhelm even the most well-thought-out strategy.  Thanks to all the alumni who came out and cheered--you were extremely loud this year and helped fuel our effort, and I wish we could have come through with a victory for you.

Next year...I guarantee it! :-)

Bob Goosmann '74

---
What a wonderful night!
THANK YOU to all the alumni who supported our 10th annual Alumni challenge! I'm so happy with the $30,000 we raised, especially in the current economic climate.
THANK YOU to all how came to cheer on our alumni team. It was a close, exciting game and a REALLY fun evening.
It was also great to meet so many alumni from the 80's and 90's who made it to the dinner and game. While the 60's and 70's still take most of the "Top 5" donor spots on the plaque, the 80's and 90s are showing strong support.
Again, my sincere thanks to our wonderful Encina family. You all are the BEST!
Steve Palmer
Class of 1974
Alumni Challenge Co-organizer

---
Alumni, as in the past, I think the Alumni Challenge was another big success. Despite the economic outlook, so many of you made the sacrifice and made pledges. During my 11 year journey at Encina, I have felt so supported by the alumni. You didn't just go away because of a name change or because you graduated, you have stayed in touch because of your commitment to your alma mater and to public education. Without your continued support, many activities or events would not have happened. We could not have asked for better surrogate parents.
You should also know that (Harlan, Steve, and B0b) have represented you well. When decisions are made, they always go back and look through the lens of an alumni. Thank you for being a part of my leadership for the past 11 years. I will always remember your kindness and generosity! It has been wonderful being a part of a blended family. Go Apaches! Go Bulldogs!
Principal Myrtle Berry
---
This was the first Alumni Challenge I have attended, and I was pleased to be actively involved as the game Public Address announcer.

Both teams played well, and I thought that the alums had victory secured in the 3rd quarter.  When the Encina varsity tied the score in the final minutes, the crowd was as noisy as any I have experienced as a professional announcer.  The school spirit was tremendous, as was the alumni support for their team. It was a terrific game.

When the kids finally pulled ahead in the last minute and took their victory, the students ran on to the court to congratulate their team and celebrate the win.  It was an amazing moment, and quite touching.  The shouting and celebrating went on for quite awhile.  It was great to see these kids proud of their team, their school, and I hope, proud of themselves as well.

I look forward to next year!

Peter Boam '63
Announcer
---
Alumni Challenge Dinner
Location: Cafeteria
Time: 530 pm
Cost: FREE FREE FREE
Caterer: Texas West Barbecue
The meal will be catered by Texas West Barbecue, the award-winning restaurant located just a couple of blocks from the school on Hurley Avenue. They will be bringing their outstanding barbecued ribs, chicken and side dishes to Encina for the pre-game meal, to be held from 5:30 p.m. to 7:30 p.m. As always, the meal is free to all Encina students, alumni, family and friends. Current varsity players who will be participating in the game are especially urged to indulge in a big meal. :-)
Alumni Challenge basketball game
Location: gym
Date: Friday, April 23, 2010
Time: 730 pm
Cost: FREE FREE FREE
Organizers: Bob Goosmann 74 and Steve Palmer 74

Raffle prizes: Wii, iPod Touch
Coach:
Bob Goosmann 74
Roster:
Matt Baggs, 2004
Manny Rojas, 2004
Brian Fraser, 2003
Erickson Aquino, 1995
Randy Wasserman, 1994
Robert Hutchison, 1981
Chris Dahlberg, 1980
Mike Martis, 1977
Bob Goosmann, 1974

Videographer: Rob Daleiden 90 and crew
M.C.: Peter Boam 63


What is the Alumni Challenge?

Here's an excerpt from the Encina "Bulldog Barks" parent newsletter describing the Alumni Challenge:

"If you have not yet attended an Alumni Challenge, you are in for a REAL treat.
"What is an Alumni Challenge?" you might ask.
It is a basketball game, where the current Encina varsity basketball team plays a full basketball game against the alumni from the class of 1961 (Encina had its first graduating class that year) to alumni as current as five years ago.
You need to know that this is not a slam dunk! The Alumni have won four (4) out of the last six (6) games, playing our varsity boys team. So, this is an event you don't want to miss. The evening starts off with a free dinner at 5:30 p.m., and admission to the game is free as well. The game starts at 7:30, and there is a rousing half time event scheduled.
Why would the alumni put themselves in such a position? This is a fund raiser they started to help the Encina Booster Club raise funds to support ALL the students and programs here at Encina High School. Over the years, the funds raised have supported our sports, reading, visual and performing arts, Encina Broadcast System (EBS), tutorials, just to name a few.
The fund raising component to the Alumni Challenge is the donations received through alumni class pledges. An example is an alumni will pledge dollars per point, or per three point baskets, or per the number of points a specific player makes, or perhaps a flat donation. Current students and families can pledge as well, as a way of cheering on the current varsity team.
This game is a very entertaining event and gives our students and families a chance to meet past Encina students. It has become a rivalry between the Apaches/Bulldogs (Encina changed its mascot to the Bulldogs in 1991) and the Bulldogs. Please come out, have dinner and enjoy a GREAT family fun night."
Who is eligible to play?
"CALL FOR PLAYERS: any alumni who graduated at least 5 years ago or earlier and played basketball for Encina is eligible to play on the Alumni team. Preference will be given first to those who have not played in a previous Alumni Challenge. All players must be available for Saturday practice (at Encina) during the weeks leading up to the event. They must also be in reasonable condition--the game is very competitive and we are competing against players half (and in some cases one-third) our age. If you are interested in playing, contact Bob Goosmann at magusbob@hotmail.com."
I understand we have some fairly recent grads who are interested in playing this year. If you are in contact with your basketball playing classmates, please let them know about the alumni challenge and encourage them to play. Several years ago the high scorer for the alumni team was Norm Siefkin from the class of 1963!
Every year we receive inquiries from female alumni who would like to play. Unfortunately, the alumni team is not co-ed. In order to field a women's team, we need someone like Bob to captain/coach/organize a women's team.
What are we raising money for?
Encina gets money for the traditional "core" classes such as math and reading . We (alumni) are providing assistance for many of the extracurricular programs, elective classes, clubs and other programs that help to enrich students' experience at Encina.
The money goes to the Encina Booster Club, who allocates the funds based on requests from students and faculty. While much of the money is allocated to sports as you would expect from a booster club, a lot of the money also goes to non-sports programs.
Here are some of the projects funded by the Encina Booster club in the past year from Alumni Challenge monies:
Viet Nam Memorial
Alumni Website
All Sports (uniforms, tournament fees, bleachers, transportation, stipends, supplies, etc.).
Business Academy End of the Year Luncheon for Seniors
Cheer Camp
CAHSEE (California High School Exit Exam) tutoring and incentives
Wish Lists for staff (this is open to ALL staff to submit items that are not covered by district nor department funds). Some of the items purchased were box converter for VHS to DVD, supplies for counseling for welcome bags for new students,
Alumni Challenge expenses
Undergraduate Awards Program
Business Academy Mentor Meeting supplies
Friendship Day (Mix It Up) supplies (4 times per year)
STAR testing incentives
Scholarships
AVID T-Shirts
CSF Fieldtrip to UOP
Controllers for Interactive Education
Spanish games (verb conjugation, etc.)
Computer programs, guides and graphics for journalism, French and English
Prizes for Open Enrollment Parent Night
Gift cards for a drawing for Take Your Parent to School Day
Special Ed Students field trip to San Francisco
Incentives for PBS (Positive Behavior Systems)

Here is a list of some of the programs funded in the past:
New Student Welcome Program through Counselors
Encina Art Gallery (Art Opening Receptions)
Performing Arts (Students attending local plays)
Cheerleading
Freshman Feast (a Freshman event with Senior peers/guides)
Encina Broadcasting System (EBS) (equipment and supplies)
Football
Boy's Soccer
Girl's Soccer
Girl's Softball
Girl's Volleyball
Girl's Basketball
Boy's Basketball
Basketball Tournaments
Sports Banquets
Every 15 minutes (drug/alcohol intervention)
Alumni Challenge event
The encinahighschool.com Website
SAP (Student Assistance Program)
Reading Program
Student to Ashland to participate in Shakespeare Festival
After school tutoring
Backboard replacement
Drama department (students) trip to Ashland

FINANCIAL OVERSIGHT

Several alumni have asked whether there is any financial oversight for all the money donated to the Encina Booster Club. Whether there is anything which prevents the funds from being misused or even embezzled.
Steve Palmer 74 realized very early on, that the Encina Booster Club lacked such oversight and worked with Encina to implement sound financial practices. Here is Steve's description...
"I am happy to talk about Encina's Booster Club financial oversight. I sit on the Booster Club as "Auditor". I attend most monthly meetings which are held at 6:30 pm on the second Tuesday of each month except July and August.
Funds that are collected by the Booster Club are deposited into a Bank of America account. Heddy Crowder, Encina's Community Liaison, records how much is received from whom (photocopies incoming checks, snackbar sales records, etc). She emails Harlan and me with Alumni donor name, date of receipt and amount. While Harlan does not usually see snackbar, t-shirt sales and such, I do. The majority of our funding is from Alumni Challenge pledges. Our treasurer is Shastitie Ferris-Miller, a volunteer who works for the state. Shastitie reconciles each month's bank statement with our Quicken records and provides a detailed journal at each monthly meeting. I and Heddy receive a copy of the Quicken files as well. Treasurer's records are reviewed at each meeting at which time we also make disbursements for approved expenses. All personal who handle money are bonded. Encina had some snackbar receipts stolen by a parent in the past, so we're extra careful!
Each year, Principal (Myrtle Berry), our Treasurer (Shastitie) , President (Lucy Thomas), Encina Community Liaison (Heddy Crowder) and I build a proposed budget to be approved (with modification/changes) by the membership. We allocate funds to Encina programs based on department need with about 50% going to sports and 50% going to academic programs, scholarships, Alumni Challenge expenses, and such. Each semester we ask staff to submit requests for program and project funding. We fund those that are believed to provide the greatest positive impact to Encina students.
We hold about 15% in reserve from one year to the next and for "emergency" requests. For example, this year Encina fielded a tennis team for the first time in many years! The Booster Club (because of Alumni generosity) was able to purchase uniforms and equipment.
Please let me know if you'd like more detail or additional information.
Alumni, thank you for supporting Encina's students and future alumni!
Steve Palmer
Encina '74"
How do I pledge?
Send your check to:
Encina High School Booster Club
Encina High School
Attention: Heddy Crowder
1400 Bell Street
Sacramento,CA 95825
Is my contribution tax deductible?
Yes, your contribution is tax deductible. Please take advantage of your company's matching funds program if you have one to double your contribution as I do. Encina will send you a tax letter.
How effective is the Alumni Challenge?
In the past six years the alumni challenge has raised almost $350,000 for Encina!
2009: $36,000
2008: $48,000
2007: $53,000
2006: $51,000
2005: $48,000
2004: $46,000
2003: $44,000
2002: $40,000
2001: $15,000
While this is due in no small part to the generosity of alumni benefactor Paul Bonderson 70, last year we had tremendous participation with almost 400 individual alumni pledges. These pledges ranged from a few dollars to thousands of dollars. No pledge is too small, nor too large <g>.
Alumni Challenge plaque
The alumni challenge plaque recognizes the five classes who:
1. pledge the most money
2. have the most pledges
Can I pledge anonymously?
Certainly. When you write, say your pledge is anonymous. However, please let me attribute your pledge to your class so they receive credit.
Why should I contribute?
Well, I can't speak for all alumni, but I give because it makes me feel good <g>. I enjoy supporting the next generation of Encina students, the interclass competition, the funny pledges (Tom Clark 70 gave $50 for a 3 pointer I made before the last game), the pride of supporting my classmates, and the feeling that we, as Encina alumni, are doing something special for our school and the community...
So do it for the kids! And do it because it makes you feel good...
Last updated: 09/08/2015