Second Annual Encina Alumni Soccer Game
Date: Saturday, May 1, 2010
Location: Encina soccer field
Men's game: noon

Encina varsity and alumni teams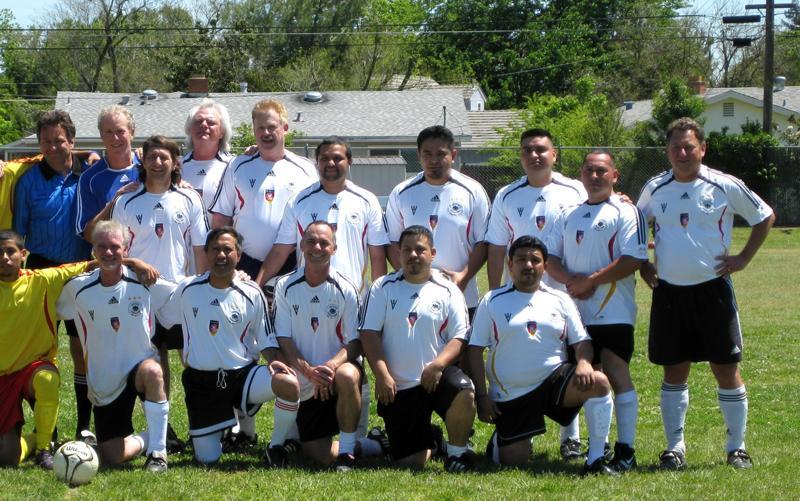 Encina alumni team
2010 Encina Alumni Soccer Game Report
Coach Buchmiller and I would like to extend our gratitude for the Players and fans who made it out to the 2010 Alumni Soccer game.  The boy's Varsity prevailed 4-1in the game, as well as 6-5 in the penalty shootout after the game.  I think we've created a routine where it doesn't matter who won the game, we still do a PK shootout regardless...  I think that speaks to the spirit and pride experienced by both Alumni and current squad once we all set foot on the field.  The weather was perfect this year, and the conditions were great, as long as you had sunscreen. 

Here is the Referee's report:

Encina goal #1 - Last name Nelson, 17th minute.
Encina goal #2 - Jose Pollo, 29th minute.
Alumni goal #1 - Tibor Pelle 40th minute (PK)

2-1 Encina at the half

Encina goal #3 - Last name Christian(?) 62nd minute
Encina goal #4 - Carlos Flores 69th minute

Coach and I would also like to personally thank Kim Tierney for donating his time as Referee.  Kim your demeanor and professionalism certainly add quality to the game.  Thank you.

The Alumni would also like to extend sincere Thanks to Paul McCurdy who flew in from Hawaii for the game.  Last year the Alumni had several goalkeepers, this year we had none to speak of.  Paul literally hasn't played since High School, due to a career ending knee injury.  However, after a little coaxing, he suited up and did an outstanding job for the Alumni.  He had several great saves despite having a bad wheel. 

Everybody was pretty pooped and sore after the game.  Many of the Alumni retired to Mandango's after the game, for hydration purposes.  It was nice to get to know Alumni from other classes over the years.  As the hydration process progressed, many more stories came forward.  Once again, no serious injuries were reported after the game I am most happy to report, for the second year in a row.  Bruised egos were not considered a reportable injury.

Stay tuned, as we will have a pre-game team photo as soon as I can get my hands on a copy.  I would like to get all the players names from both squads, as well.  Coach Buchmiller will be announcing some of his plans for the future Encina Boy's and Girls Soccer program at Encina.  John has some great Ideas for the future and he will be sharing them soon, as well as opportunities for Alumni to contribute directly to the Soccer program in addition to general Alumni support for the School.  Again, to all the Alumni, Players and fans who showed their support, our sincere Thanks.

Coach Buchmiller and Bruce Roy
---
There will be an Alumni Soccer Game on May 1st, 2010 at noon, on the Encina Soccer field. I'd like to extend an invitation once again to all former players, students and alumni to join together and celebrate the Encina Varsity Boy's team, the 2009 Sac-San Joaquin Section Champions! For those of you who would like to see video It's on youtube "Encina playoffs".

The Coaching Staff and I would like to extend our sincere gratitude to everyone who participated in last years event. The rain tried, but could not dampen the spirits on the field. I don't think anyone realized what great things the boys would achieve in the months ahead, and I'm quite sure they will never forget the experience.

As last year, I will be compiling a list of players for the Alumni team. We should all start stretching early this year. Maybe we could get some one to donate walkers and canes for the old boys after the game.... These kids are good! 

Alumni faculty member LaVerne Gonsalves has committed to prowling the sidelines with his camera.  Pass the word along to family and friends, and let's celebrate the Encina High School soccer program!

Thanks in advance,
Bruce Roy '76
bbkroy@comcast.net
cell: 916-718-8478
Alumni team:
Bruce Roy 76 (captain)
Greg Grant 75
Jon Carlson 76
Layne Esguerra 77
Roger Bailey 79
Mark Nelson 79
Tibor Pelle 79
Neal Francino 82
Ryan Norris 89
Geoff Shumway 89
Ramon Sanchez 94
Nestor Gutierrez 95
Alex Sanchez 95
Jorge Mendoza 96
Eric Ramirez 96
David Villegas 97

Last updated: 09/08/2015