[ Up ] [ Bios ] [ In Memoriam ] [ Grade School ] [ Graduation Program ] [ Tomahawk ] [ Photos ] [ 20 year reunion ] [ 25 year reunion ] [ 30 year reunion ]
Class of 1972 - 30 year reunion
[ Grads Only Party ] [ Reunion Dinner ]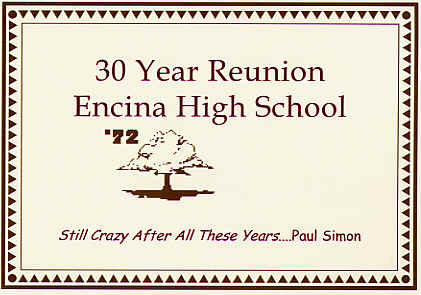 Sue Kehoe Jacobson was the Chairperson for this event and she did an incredible job!!

Special thanks go to the rest of the reunion committee: Cindy Sheets, Mike Bozich, Angie Gurule Kraft, Debbie Sprague Mitchell, Darrell Mitchell, Simon Slak, Kerry Shearer, Wayne Christie, Craig Moseley, & Cecily Knepprath. Additional thanks to Mike & Karen Wilson plus Jerry Azevedo.
The 30 year reunion of the class of 1972 was held on the following dates:

Grads-Only Party
When: Friday, July 12, 2002
Where: Sue Kehoe's Home
Time: 7:00 pm
See the Grads-Only Party page for photos.

Reunion Dinner & Dance - Saturday, July 13, 2002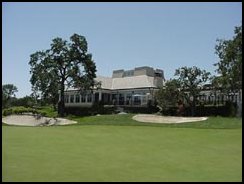 The Saturday event, July 13, 2002 was located at the Granite Bay Golf Club -- a beautiful, open, airy indoor facility which includes a deck and patio outdoors over looking the golf course. We had a no host bar, a wonderful dinner buffet, and music and dancing later into the evening.
See the Reunion Dinner & Dance page for photos.

Family Picnic

When: Sunday, July 14, 2002
Where: Carmichael Park
Fair Oaks Blvd, Carmichael, CA 95608
Time: 11 am - 5 pm