Daniel Ray Ash (1942-2019)
Daniel Ray Ash, 76, went to be with the Lord Monday, June 17, 2019, in Sacramento, California with his wife, son, and daughter by his side. Dan, a long-time resident of Sacramento, was born in Pleasant Hill, Missouri on September 27, 1942. After serving in the US Navy, Dan taught Industrial Arts at Encina High School for 20 years. He rarely missed a Sunday service as a member of El Camino Baptist Church where he managed the food closet and started Dan's Toys, giving Christmas gifts to children in need of the food closet services. He loved the outdoors, including hunting and fishing, and had a passion for gardening. He was a wonderful husband, father, grandfather and great-grandfather, and is survived by his wife Betty Ash; son Daniel Ash, Jr., daughter Trina Knight, sister Nanci James, brother John Ashe; 9 grandchildren, 2 great-grandchildren, and many other family members and dear friends. He was a blessing to everyone he met and will be truly missed. A memorial service will be held on July 6, 2019, at 11 a.m. at El Camino Baptist Church, 2805 El Camino Avenue, Sacramento, CA 95825. Flowers can be sent to El Camino Baptist Church for the memorial service, or donations can be made to the Fisher House Foundation at https://fisherhouse.org/. [Published in The Sacramento Bee on June 30, 2019]
Robert Anthony Bingham
Robert Anthony Bingham was a dynamic individual who cherished the spirit and hope of young people that eventually led him down a path of coaching high school sports, ensuring the health and safety of communities through environmental health, and raising a loving family. He left this world peacefully at home at the age of 49 on June 28th, 2006, in Sacramento, surrounded by his children, wife, and very close friends. Born in Portland, Oregon on March 8th, 1957, Robert grew up in Carmichael and attended Encina High School where he was active in basketball, football, and baseball. After high school, Robert served honorably in the US Army Nuclear Security program from 1975-1978 stationed in Germany. He also was a member of the Army Special Service basketball team. He later coached at Encina and Rio Americano High Schools from 1978-1990, successfully taking the Encina football team to the playoffs in 1985. Robert mentored many youth, inspiring them to reach beyond their goals and often acting as a surrogate father. It was no surprise that his energy and devotion led him to a second career in environmental health, where, through his dedication and drive, he crafted his own special masters degree in Neuromuscular Physiology at California State University at Sacramento, which he received in 1991. This then led him to the Yolo County Environmental Health Department, where he worked for many years. However, his most cherished accomplishment was his family, as husband to wife Annette and father to Alec and Gianna. Robert was a familiar face on the Leonardo da Vinci elementary school campus, volunteering in the classroom and driving on field trips. He coached his son's Land Park Little League team and attended his daughter's many dance performances. He is also survived by his mother Audrey Mistretta of Sacramento, sister Debbie Bingham, niece Cheyenne Bingham, and father Chuck Bingham, all of Texas. Robert's devotion to family, friends, and community left an indelible mark for everyone who knew his laughter, caring demeanor, and hopeful vision of life. His family wishes to invite everyone to celebrate his life on Sunday July 9th, 3pm, at the Encina High School gym, 1400 Bell Street, Sacramento. A reception will immediately follow at the CSUS Alumni Center on the CSUS campus. Friends are invited to bring a "story and song" to share as we remember Robert through his love of music. Donations may be made to the Robert Bingham Memorial Fund, Golden 1 Credit Union, P.O. Box 15966, Sacramento, CA 95852.
7/7/06
Headline: WILLIAM T. BODE FORMER DEL CAMPO HIGH SCHOOL PRINCIPAL WAS WORLD
WAR II PILOT AND INSTRUCTOR, AVID PHOTOGRAPHER AND WORLD TRAVELER
Publication Date: December 22, 1995
Source: The Sacramento Bee
Obituary: William T. Bode, a longtime principal and administrator for the San Juan Unified School District and a former Air Force officer, died Dec. 9 at Sutter General Hospital of a head injury. He was 75.
The San Diego native served in the Army Air Forces during World War II as a pilot and flight instructor. After the war, he became a reservist.
In 1949, he received a bachelor's degree in industrial technology from the University of California, Santa Barbara. Mr. Bode was recalled to active duty after the Korean War broke out and was stationed at Mather Air Force Base. When the war ended, he returned to the reserves and retired as a lieutenant colonel in the 1970s.
Mr. Bode taught photography and engineering in Tucson, Ariz., for about a year. He then returned to Sacramento to teach at James Marshall High School. While working as a teacher, he graduated from what was then Sacramento State with a master's degree in education administration. After graduation, he spent a year as a Fulbright scholar in Antigua.
He joined San Juan Unified School District in 1959 as dean of boys at Encina High School. Shortly thereafter, he became vice principal at El Camino High School. He was principal of Del Campo High School for 17 years, retiring in 1978.
Mr. Bode had a strong interest in photography and shot pictures for two books written by his wife, Frances, who preceded him in death. He also wrote a book, "The Floral Designer's Guide to Photography," and was the photographer for members of the Arrangers Guild. His photographs can be found at the California Academy of Sciences in San Francisco and in private
collections.
He also enjoyed traveling throughout North and Central America, Africa, Europe, New Zealand, Japan and Hawaii.
Mr. Bode belonged to Rotary International, Sierra Camera Club, Sacramento Delta Council and Photographic Society of America.
Survivors include daughters, Eleanor Caldwell of Seattle and Catherine Appel of Brookings, Ore.; a son, William T. Bode II of Bonney Lake, Wash.; eight grandchildren; and two great-grandchildren.
Mr. Bode requested that contributions be made to a charity of the donor's choice. At his request, no services will be held.
9/15/00
Ralph Wesley Bonds, Jr, age 72, passed away on Monday August 31, 2015, with family by his side. The world seems darker without this kind, humorous, loving man in it. He was a loving husband and best friend of Sharon, a proud father to son David (Laura), stepson Douglas Calvert (Naomi), stepdaughter Jeray Huerta and in Santa Barbara stepchildren Becki Norton (Doug) and Daniel Hess. The light of his life are his grandchildren Daria, David Jr., Damian, Danica Bonds, Anthony Valenzuela, Clarissa Huerta, Javier Huerta, Jr., Emma and Hayden Calvert. There is a large and loving family of the heart all over the United States and especially in Texas where he grew up along the border of Mexico. Ralph was a Viet Nam veteran. He was proud of his service and as a Army bandsman he spoke of being instrumental in the service of his country. Unfortunately it appears his exposure to Agent Orange shortened his life with us. He was first and foremost a natural teacher. After 32 years teaching middle and high school students in Santa Barbara and Sacramento, he retired and brought his teaching skills to the students and visitors that came to Sutter's Fort. There as a docent in the Vaquero room he shared his vast knowledge of early California history. As a speaker of a number of languages he left a lasting impression with visitors that came to the Fort from all over the world and many stayed in touch after they left. He loved learning. About everything. His writing classes in Sacramento and Davis were an important part of his life. Even with two Master's degrees he talked about working on an MFA. His memory was prodigious. We've lost our own wikipedia with his passing. Music was another talent of his with a beautiful singing voice and the ability to play many instruments. He was a unique man. He inspired many, gave hope to many and was a true friend. Quick witted and a consummate punster his knowledge and humor was legendary. He will be profoundly missed. A memorial service is scheduled for 1:00pm on Friday September 18, 2015, at Trinity Cathedral at 2620 Capitol Avenue, Sacramento, CA 95816. A reception and celebration of his life will be held immediately following
10/6/15

BRAAFLADT, Walter T.
Died peacefully on August 2nd after a long battle with lymphoma cancer at age 84 years old. He was born on February 19 1929 as third son of Dr. Louis and Hope Braafladt in Minot, North Dakota, survived by son John and daughter Joanne and wife Jeanette. He will be dearly missed by family and friends. Graduated in music education from Pacific Lutheran University Tacoma Washington, Master degree from University of Washington and Sacramento, State choir director of many church choirs, retired from San Juan Unified School District as a music teacher. Memorial Service, Friday August 9th @ 1:00pm @ Carmichael Presbyterian Church 5645 Marconi Ave. All are welcome. Published in The Sacramento Bee on August 7, 2013

BRAIO, Andrew James
Andrew James Braio of Colorado Springs, CO, passed away at home on March 17, 2015, after a year-long battle with cancer at the age of 74. He is now home with the Lord. Andy was born in Paterson, NJ, on March 13, 1941. He played baseball for El Camino HS (class of '58) and for Sacramento State College (now CSUS) from '59-'62. With his college team, he went to the NAIA World Series. After college, he went on to play semi-pro baseball in Northern California and later, slow pitch softball. He played in the World Series in Jacksonville, FL, with his softball team, and in the '90s he was inducted into the Sacramento Slow Pitch Hall of Fame. He was a high school teacher and baseball coach at Encina HS for over 20 years. After attending Arcade Baptist Church for many years, Andy and his wife became founding members of Sun River Church. For his second career, Andy served as a missionary with HCJB World Radio with his wife. He is survived by his wife of 51 years, Linda; their four children, Angie (Brian) Criner, Amy (Steve) Wilch, Rebecca (Larry) Veteto, and Joff; and 10 grandchildren. In lieu of flowers, a donation may be made to ACTS Ministry, an orphanage in Africa where Andy and his wife served. www.acts-burkina. org.  [Sacramento Bee, 3-25-2015]
Jack Dee Carey
9/29/27 - 4/30/19
Born Sept. 29, 1927 in Ada, Ohio. Passed peacefully April 30, 2019 in Sacramento. Preceded in death by wife JoAnn Carey and brother Robert Carey. Survived by wife of 10 years, Barbara Carey; daughters Julie Maheras and Joyce Williams (Brian); grandchildren Jacinda Maheras, Emily Williams, and Travis Williams; and great granddaughter Verity Maheras. Jack graduated from Ohio Northern University in 1949 with a BS degree in Education, and earned an MA degree in Music from Occidental College in 1960. He was a public school choir teacher for 35 years beginning in Harrod, Ohio. He then taught music in Yuma, AZ, and spent the final 25 years of his career at Encina HS in Sacramento from where he retired in 1984. Encina music alumnae have kept in touch over the years, and many annually visited every December 26th. Jack was a devout Christian. He had been an active member and choir director at St. Marks United Methodist Church, Arden Christian Church, and Northminster Presbyterian Church. He was the founding director of the River City Chorale in Sacramento in 1977. Jack had an active social calendar, and was one of the last surviving members of "The Group." He enjoyed a long, healthy, musical life surrounded by family, friends, and students. A memorial service will be held at 11:00 am Saturday, June 1, 2019, at St. Marks United Methodist Church, 2391 St. Marks Way in Sacramento. In remembrance, donations may be made to the Sacramento Children's Chorus Scholarship Fund (25 Cadillac Drive #220, Sacramento CA 95825) to help underserved youth participate in choral programs.
Photos: https://encinahighschool.smugmug.com/Music/Jack-Carey-Memorial-Service/
CARSTENSEN, Arlene B.
Arlene, (AKA Sal or Aunt Sally) made her transition very peacefully about 2:30 Sunday morning June 21, 2009, with her devoted caregiver, Iva Mataiyalona, by her side. Dixie Meixner, her friend of 50 years, and her husband Don were also with her most of the time during her last few days. She died surrounded by the people who loved her. She was born in Waverly, Iowa, on April 26, 1917, to William and Anna Clausing Carstensen. They and her two brothers, Vincent Carsensen, M.D., and Clarence Carstensen, D.D.S., a sister Lucille Paup, and a nephew David Carstensen, preceded her in death. Her survivors are: nephews John (Jill) and Rev. Jim Carstensen, a niece Gretchen Smelcer (Jim), a great-nephew Jay Carstensen (Paige) and a great-niece Karen Peery (Scott). Many close friends are left to miss her wise counsel as well as her loving company. Arlene earned a B.A. from Wartburg College in Iowa and a M.A. at the University of Minnesota. She served as a counselor at Encina High School from September 1959 to June 6, 1981. She took great joy, pride, and care in her work sheperding her students through their high school years. During WWII Arlene joined the Women's Army Corps. After the war, she was honorably discharged as a sergeant. At her request there will be no funeral services. However, her close friends are encouraged to meet and remember her. Her nephew, John, will take her cremains back to Waverly, Iowa, where they will be buried beside her mother in Harlington Cemetery. Arlene loved her cats and wished that any remembrances be made to: Happy Tails, P.O. Box 161994; Sacramento, CA 95816-1994. Happy Tails have lovingly taken in her cat, Rocky, to give him a good home. Arlene can now rest in peace. Published in the The Sacramento Bee on 6/27/2009
Sacramento Bee, August 19, 1996
Cruickshank, Leslie J.
In Placerville, August 18, 1996. Beloved father of Jean Thomas of Placerville. Loving grandfather of 2 and great grandfather of 5. Loving uncle of George E. Hannaford of Folsom. Preceded in death by his wife Pauline Cowan Cruickshank. A native of Fair Oaks, age 90 years. A resident of Placerville for the past 5 years and prior, he lived in Sacramento and grew up in Folsom.
He is a graduate of San Juan High School where he was an outstanding athlete participating in baseball, basketball and track. He held the title of the fastest runner in the county in the 100 yard dash while in high school. After he married Pauline, he worked at Rumsey's Grocery Store. He later left there to enter college to study to become a teacher. In 1939 he began his teaching career in the business department of Modesto High School. In 1955 he moved to Sacramento and resumed his teaching career at El Camino High School and later going to Encina High School. He never failed to encourage students to continue their education and to work hard as keys to success.
A private family service will be held on Tuesday, August 20, 1996 at 3:00 pm at East Lawn Sierra Hills Memorial Park, 5757 Greenback Lane, Sacramento. Memorial contributions may be made to Snowline Hospice, 3097 Cedar Ravine,
Placerville, CA 95667.
9/15/00
Sacramento Bee, February 3, 1971
Cancer Kills Woman Who Aided Invalids
Pauline M. de Gooyer who, despite knowing she had terminal cancer waged a campaign on behalf of other invalids, died last night in her home. She was 52.
Cancer plagued her for three and a half years but it was not until last March that she was forced to give up teaching at Encina High School and was hospitalized for the last time. She came home in April her husband, Marvin said, because she wanted to be in familiar surroundings when she died.
Mrs. de Gooyer continued from her home the drive she had started shortly after her last hospitalization -- collecting coupons to obtain a kidney machine. Her efforts accounted for more than 200,000 of the 600,000 coupons needed for the complicated apparatus.
Her 11 years of teaching English and public speaking at Encina earned her a life membership in the California Congress of Parents and Teachers. Encina students, impressed with her as a teacher and an individual, have dedicated their 1971 school year book in her honor.
The family came to Sacramento 14 years ago from Houston, Tex., where, although she did not teach, Mrs. de Gooyer also earned a life membership in the state parent-teacher organization. The recognition was accorded her for organizing PTA paper drives which completely equipped two elementary school libraries.
Several weeks ago, she wrote her own memorial service for the rites which will be held at 7:30 PM tomorrow in St. Mark's United Methodist Church, 2391 St. Mark's Way.
A graduate of Simpson College in Iowa, she was a member of Phi Beta Kappa and had been working for her master of arts degree in English at Sacramento State College until she became too ill to continue.
In addition to her husband, she is survived by her children, Jon Eric of Germany; Kalen Saxton on Alaska; parents, the Rev. and Mrs. Floyd Shepherd of Des Moines, Iowa; and brother Norman F. Shepherd of New York. She also leaves four grandchildren.
The family requests that any remembrances be made to the scholarship fund of Delta Delta Delta sorority in care of Mrs. Mary K. Maker, 1701 11th Ave.
10/25/01
Eric Arthur Dahlin
On Thursday December 13, 2018 Eric passed away in his home at the age of 72. Eric was born in Vancouver, Washington on December 25, 1945. He is survived by his wife Cheryl, his goddaughter Katie Vaclavek, and his cat Friendly. He was a ceramic art teacher for 34 years at Encina Preparatory High School and retired in 2004. Eric continued to create his ceramic sculptures after retirement until his death. Art was his passion and clay was his medium. "I know that everything I make is a piece of me." Eric was also an avid fly fisherman, a member of The Sutter Club, and had friends too numerous to mention. Special thanks to Dr. Dazhi Cen and his staff at Kaiser Permanente Oncology Department, who cared for Eric and guided him through the last 21 months of his life. In accordance with his wishes, no funeral services will be held. Remembrances can be sent to Happy Tails Pet Sanctuary at 6001 Folsom Blvd., Sacramento, CA 95819.
Published in The Sacramento Bee on Jan. 4, 2019
Jack W. Dutton, age 85, passed away peacefully of natural causes on October 31, 2015. Jack was a loving, devoted husband, father, companion and friend. Born in Jewett Ohio in 1930, he went on to serve in the Army, obtain his Masters Degree in Education and teach for 35 years-32 years of which were at Encina High School. He was the beloved husband of the late Marilyn Dutton and loving father of the late Kim Dutton-Mathis. He is survived by his daughter Lynne Camilari and his son-in-law Leo as well as his loving companion, Doris Wheeless. He will be forever loved and missed. In lieu of flowers, please send remembrances to the charity closest to your heart.
FIGENSHU, John W. ''Jack''
Memorial Mass for Jack Figenshu, who passed away on November 17, 2005, at the age of 77, will be held at 12:30 pm on Saturday, December 3, 2005, (with a reception to follow) at Presentation Catholic Church; corner of Norris and Robertson Avenue, Sacramento. Jack is survived by his wife of 55 years, Shirley, four sons: John Jr., Richard, Thomas and Karl; and one brother, Robert. In lieu of flowers remembrances may be made to Presentation Church or to a charity of your choice.
Published in the Sacramento Bee on 11/19/2005.
Press Tribune (Roseville), Feb. 2, 1996
Marie Marguerite Foster
May 4, 1930 - Jan. 29, 1996
A memorial service will begin at 10 a.m. Saturday at St. Mark's Anglican Church, 5983 Webb St. in Loomis, for Marie Marguerite Foster, who died in Penryn Monday at the age of 65. A native of Huntsville, Texas, Mrs. Foster was a 28-year resident of Penryn.
She was a librarian for 25 years at Encina High School in Sacramento, and she enjoyed golfing, horseback riding and travel.
Inurnment will be at East Lawn Memorial Park in Sacramento under the direction of Reichert's Funeral Service in Citrus Heights.
Mrs. Foster is survived by her son, Mark Hopkins of Shingle Springs; a brother, Frank Cowell of Texas; her companion of 16 years, Rod Beretta of Penryn; and two grandchildren.
Memorial contributions may be made to the American Cancer Society, 415 Oak St., Roseville, 95678, or the Auburn Faith Hospice, 11760 Atwood Road, Auburn, 95603-9075.
9/15/00
GALLAWAY, Edward George 86, of Elverta, CA, peacefully passed away on October 30, 2014, joining his beautiful wife Carol in heaven. Born September 20, 1928 in Loomis, CA, son of Frank and Eva Gallaway, "Ed" grew up with his brothers Richard and Ronald in Del Paso Heights, CA. Ed was a proud Eagle Scout. He attended Grant High School (Class of 1945). It was at Grant High School during his senior year that he looked across the gym and instantly fell in love with "a cute little freshman" Carol Elaine Sisler, whom in 1950 became his wife. After graduating high school at the age of 17 and with his parent's permission, Ed become a United States Marine. During his boot camp, Ed proved to be an excellent marksman. Ed then used his skills to teach new recruits. He served three years at Camp Pendleton in San Diego, CA, where he served mostly as a fire fighter and also played on the football team. After his service, he returned home but remained an Active Reserve. With his service behind him, Ed started college at Sacramento State. In 1950 Ed and Carol purchased their first home. However, in June of 1950 the Korean War started and within a month Ed found himself overseas serving in the USMC. Ed was assigned to the1st Marine Division, 7th Regiment, fighting at the frontline. Ed survived the historical battle of Chesin Reservoir. Ed received the Purple Heart for injuries sustained during this battle. Soon after, Ed was sent home. Reuniting with his wife Carol, Ed finished college, earning a Master's Degree in Physical Education and received a California Teaching Credential. Ed went on to have a long career as an educator in the Sacramento area. Starting off as a teacher and coach at El Camino High School and afterwards teaching and coaching at Encina High School. Ed was proud of the teams he coached at Encina and one of which was named as one of the top 5 Sacramento area basketball teams ever. He became the Vice Principal of Del Campo High School and then went on to start Loma Vista High School where he later retired. He was inducted into the Sacramento Sports Hall of Fame. To celebrate his retirement, Ed backpacked through Europe. He enjoyed golfing, and he marshaled at Cherry Island in Elverta. Ed and his wife loved to travel and take cruises. Some of their favorite destinations included Hawaii and Ireland. Ed and Carol spent much of their time with their children and grandchildren, attending celebrations and events. Above all of his accomplishments, he was most proud of his wife and four children. Ed was the loving father to Steve Gallaway of Lincoln, CA; Colleen (Tim) Warner of Elverta, CA; Laura McElroy of Sacramento, CA; and Bill (Tina) Gallaway of Ketchikan, AK. Ed was preceded in death by his parents, his beloved wife of 54 years, Carol Gallaway, his brother Norman, and his son-in-law Mike McElroy. Ed leaves behind his 2 brothers, 4 children, 7 grandsons, 4 granddaughters and 8 great-grandchildren. All services will be held at Sunset Lawn, Chapel of the Chimes, 4701 Marysville Blvd, Sacramento CA. 95838. Viewing will be held on Thursday, November 6, from 4-8pm. Funeral service will be held on Friday, November 7, at 1:00pm. Entombment immediately to follow. The family wishes to thank UC Davis Hospice and all of Ed's caregivers. They send a Special Big Thank you to Vizelda and Bernie for the genuine love and care that they gave to Ed.  [Sacramento Bee, 11-4-2014]
Sacramento Bee, June 4, 2003
GIRE, ALICE (ALICIA) ELLEN ZICKAFOOSE
Born October 14, 1911, in South Salem, Ross County, Ohio, to Bessie McDaniel and James Lawrence Zickafoose, passed away peacefully May 31, 2003 in Roseville, CA, at the age of 91. She was a graduate of The Ohio State University and an English teacher in Cincinnati, Ohio, and in the Sacramento area at Encina and San Juan high schools until her retirement in 1976. She also earned a Masters degree in theater from CSUS. She was preceded in death by her husband of fifty-four years, Myron E. Gire, Sr. in 1986. She is survived by loving son, Myron Jr. (Kathy); grandchildren, Rebecca Pahl (Mike), Jennifer Magleby (Corey), Morgan B. Gire; and great-grandchildren, Lindsay, Hunter, and Tanner Pahl and Mason, Max, Hannah, and Sarah Magleby. She also leaves a sister, Mrs. Evelyn Seeger of Wincester, Virginia. Arrangements are private through Lambert's Funeral Home, Roseville, with burial in the Newcastle Cemetery.
GOLDEN, Donald J.
Age 83, died on January 25, 2010 at home in Carmichael, CA.
Donald J. Golden was born on February 17, 1926 at Walla Walla, WA to Thomas Eugene Golden and Josephine C. (Rypczynski) Golden. Don is survived by his wife of 59 years, Jimmie Golden of Carmichael, CA, son Thomas of Seattle, WA, daughter Mary P. Golden of Carmichael, CA, sister Eileen Boyes of Donner, CA, brother Albert Golden of Walla Walla, WA, daughter-in-law Mary J. Golden of Folsom, CA, two grandchildren, Sara and Patrick Golden, and numerous nieces and nephews. Don was preceded in death by his son Donald J. Golden, Jr. Don served aboard the U.S.S. Belleau Wood (CVL-24). Following military service, Don returned to Whitman College where he received his B.A. in Economics and Business Administration in 1949 and a Teaching Credential in 1950. On September 16, 1950 Don married Jimmie Fryer of Albuquerque, NM. In 1956, Don and family moved to Carmichael, CA. In 1958 Don was asked to be vice-principal at Encina High School, where he remained until 1973, having become principal in 1968. In 1962 Don received a M.A. in Education at the then Sacramento State College. In 1973, Don became Director of Vocational Education for the San Juan Unified School District. During this time, Don extended the Vocational Education program to 11 high schools, one technical center and three confirmation high schools with the San Juan District. Don remained active in his love of the outdoors with abalone diving, hunting, fishing, ATV riding and rock hounding trips throughout the western United States. He was integral to the formation of the Sacramento chapter of the Rocky Mountain Elk Foundation. Interment will be at National Veterans Cemetery, Dixon, CA. Services will be private. At his request, there will be no funeral or memorial service and his friends are requested to make any remembrance to a charity of their choice. A memorial mass will be held in Walla Walla, WA.
2/14/10
The Sacramento Bee, June 18, 1987
DAN A. HALVORSON
A rosary for Dan A. Halvorson, a counselor for the San Juan Unified School District and active in Sacramento high school sports for many years, will be recited at 7 p.m. Friday in the Culjis & Son Chapel, 1525 Alhambra Blvd. He died Tuesday, June 16, from cancer at age 53.
A Sacramento resident since 1960, Mr. Halvorson joined the Sacramento City School District and coached basketball at Peter Lassen Junior High School and Will C. Wood Middle School. He joined Burbank High School's physical education staff when the school first opened in the early 1960s and was there for seven years as a football, basketball, golf, and tennis
coach. Mr. Halvorson was then a counselor at Encina High School for the San Juan Unified School District and transfered to Mira Loma High School, where he served as head counselor and the girls' athletic director and softball coach for several years. He was a counselor at El Camino High School the past few years and also officiated at football games.
The North Dakota native served in the Army during the late 1950s and earned a bachelor's and master's degree in education from Arizona State University. He later received a master's degree in psychology from Sacramento State College.
He enjoyed distance running, competing in several national marathons and triathlons, and held a national steeplechase record for his age group for two years. He also announced football games at Hughes Stadium for several years.
Mr. Halvorson is survived by his wife, Mary; children, Peter of Arizona, Brian of Texas, Stephen of Berkeley, and Kathleen and Megan, both of Sacramento; his mother, Dora Halvorson, and a brother, William, both of Stockton; and sisters, Joanne Ash of Washington and Shirley Funk of Arizona.
A Mass of Christian Burial will be offered at 10 a.m. Saturday in St. Mary's Church, 58th and M streets. Burial will be at Calvary Cemetery. The family requests that anyremembrances be made to the Dan Halvorson Fund, c/o Len Frizzi, 3406 Harger Court, Sacramento, 95821, or the American Cancer Society.
1/9/01
ANCHORAGE DAILY NEWS, SUNDAY, FEBRUARY 9, 2003

Anchorage resident LOUIS GEORGE HUBER, 77, died Feb.

6, 2003, at Providence Extended Care Center.

Graveside services will be at 2:30 p.m. Tuesday at

Fort Richardson National Cemetery with the Rev. Bill

Warren of Anchorage Lutheran Church officiating.

Mr. Huber was born Jan. 17, 1926, in Great Falls,

Mont.

He was a Navy veteran who served during World War II

and the Korean conflict.

He earned a master's degree and was a teacher. He

retired in 1982 from the San Juan Unified School

District.

He came to Alaska in 1983 and settled in Fairbanks

until 1989, when he moved to Anchorage.

Mr. Huber was an apartment manager and a greeter for

Kmart.

He was a member of Anchorage Lutheran Church and the

YMCA. He did senior volunteer work for political

polling sites, urging seniors to vote during

elections. He was also an umpire for girls softball

and a scorekeeper for recreational district volleyball

and basketball.

He enjoyed fishing and traveling to Seattle to watch

Seattle Mariners baseball games. Mr. Huber also

enjoyed driving the Alaska Highway and did so

annually. He loved walking five miles daily.

Mr. Huber was preceded in death by his daughter,

Marilyn Huber.

He is survived by three sons and two daughters-in-law,

Mark and Judith Huber of Westford, Mass., Martin and

Debbie Huber of Antelope, Calif., and Michael Huber of

Elk Grove, Calif.; two daughters, Michele Huber of

Carmichael, Calif., and Jamie Huber of Twin Falls,

Idaho; two sisters, Ruth Waetzig of Great Falls and

Dorothy Hagen of Seattle; brother, Roland Huber of

Oregon; six grandchildren; and three

great-grandchildren.

In lieu of flowers, the family requests that memorial

contributions be directed to Anchorage Lutheran

Church, 1420 N St., Anchorage 99501.

Arrangements were by Witzleben Family Funeral Homes &

Crematory, Bragaw Chapel.


2/11/03

Alice Stipak 68 wrote:
You don't know me, but as an old student of Mr. Huber's, I just had to write to tell you how very, very sorry I am to hear just now of the passing of your dear father.

Although it has been many years, decades in fact, since I have seen him, Mr. Huber was one of my very favorite and most influential teachers at Encina. As I sit at my computer with tears of grateful remembrance streaming down my face, I can still picture him vividly. I can hear his firm but gentle voice so clearly, as he reached out to each one of us with his very centered, dependable, charismatic presence from the front of the classroom.

Mr. Huber always treated us with total respect and complete belief in our potential. He helped us look inside of ourselves and find the self-respect and confidence to dream about our futures. He was like a rock of Gibralter for all us students, offering us not only safe and patient passage through the rocky challenges of advanced math class, but also the kind light of understanding to help us through our turbulent teen years. He was at various times funny, understanding, and intellectually inspirational; he was always there for all of us.

I felt like his message to us was, "Look, you've got a brain between your ears, you've got people who care about you, you've got the chance to learn something and to be somebody--- so what are you waiting for? Go on and do something great with your lives!"

I know that for me, personally, he is one of the reasons I exerted myself to my utmost at Encina, and became the AFS exchange student to Japan, captain of the debate team, and valedictorian. Mr. Huber just somehow always knew how to bring out the best in us. At pivotal times in my adult life, he has occasionally flashed through my mind, like a guardian angel reminding me to take my time and think things through logically, then to relax and trust my best judgement.

This is why I would like you and your family to know that for many of us students, Mr. Huber has always and will always truly live on in our hearts, reminding us to try a little harder, to reach a little deeper, and to care a little more about others.

I see him grinning slyly, I see him gesturing animatedly, and I see us thinking, listening, learning, growing in response to his carefully-aimed words and delightful insight. I really hope you had the chance to watch your dad teach. Mr. Huber was, and for me will always be, a very, very special teacher.

"Let us love Him because He first loved us" (1st John, Chapter 4, Verse 19)

Sincerely yours,
Alice Stipak
Encina High School class of '68
Campbell, CA
2/11/03
Dale Jones
Dale Jones passed away on Monday, September 10, 2018, after 95 wonderful and eventful years. Dale was preceded in death by his wife Dolores (Putnam) Jones, his parents Allen and Eva Jones, and his sister Lavaun Schmidt. Dale was an avid conversationalist; he was an extremely bright and modest man who loved people. One area that Dale was most proud of was his 37-year career as a teacher. He was a master teacher who was a supreme advocate for his students. Dale was a foreign language teacher, specializing in his love of French. Dale started his teaching career in Cedarville, CA, teaching five subjects, before moving to Sacramento, CA in 1961. He then taught five years at Encina High School before transferring to Rio Americano High School where he spent the remainder of his teaching career. Dale graduated from Willamette University after serving in World War II in Europe for three years. After graduation he studied in France at the Sorbonne University for one year on a fellowship. He then went to Cal Berkeley to get his Masters degree in foreign language. Dale was born in Oregon and raised in Longview, Washington. He is survived by this brother Marvin Jones, sister Elaine Cunningham, and sister Eula Pritchard. He also is survived by numerous cousins, nieces, and nephews. Dale was very proud of his Jones family heritage and their journey on the Oregon Trail to settle in the Pacific Northwest. Dale was married to his beautiful wife Dolores Putnam in 1952. They then moved to the High Desert community of Cedarville, CA for 9 years of small-town life before moving to Sacramento. Dolores was stricken with polio as a child, and even though wheelchair bound, they took frequent trips every Sunday to explore California. They also took frequent trips each summer for Dolores to visit her parents and brothers Denver and Maurice in South Dakota. The couple also visited Europe for 6 weeks in 1968; this was no small task with Dolores in a wheelchair and no handicap accommodations. For the past 20 years, Dale lived at Crosswood Oaks and has made many wonderful friends. He served on numerous committees, was the librarian, and was the unofficial greeter for new residents. Dale has touched many lives as a husband, teacher, family member, and friend. He was a true gentleman who thought civility and thoughtfulness were important attributes. He was a caring man, a giving man, and loved by all. Dale will be interred with military honors at the Sacramento Valley National Cemetery, Dixon, CA, on September 27th, at 11:30 a.m. Published in The Sacramento Bee on Sept. 16, 2018
Headline: ERNIE G. JONES DEVOTED CAREER TO CAPITAL-AREA KIDS' EDUCATION
Publication Date: October 07, 1996
Source: The Sacramento Bee
Obituary: Ernie Grover Jones devoted his lengthy career to the education of children in the Sacramento area. From teaching to counseling to administrative work, he employed his generous nature to help those around him, his family said.
"You could take problems to Ernie and talk about them. I never heard a person say a bad word about him ever," said his friend of 48 years, George Kelly of Sacramento.
Mr. Jones died Thursday of heart failure at Tucson Medical Center in Tucson, Ariz. He was 70.
In addition to teaching and counseling at various schools in the San Juan Unified School District, he developed work-experience programs, including the Regional Occupational Program which gives high school students academic credit for working in their field of study.
He counseled at several area schools including Mira Loma, Encina, El Camino, and La Sierra. He helped develop the curriculum at Casa Roble High School.
"He related to kids well. He treated them as adults," said his son, Steve Jones of Kahaluu, Hawaii. "He never talked down to young people."
After living in Sacramento for 39 years, Mr. Jones moved to Tucson in 1989. A native of Ensley, Ala., he was the sixth of eight children born to Earny Grover Jones and Wilda Collum Jones. He joined the U.S. Navy when he was 17 years old. He was stationed in the Pacific and Treasure Island before leaving the military as a chief petty officer after three years.
Upon leaving the military, he received his high school equivalency diploma, and entered Auburn University in Alabama. After one year, he transferred to Birmingham Southern College where he met his wife, Charlotte Jones, who also was a teacher for the San Juan district before her death last year.
The couple moved to Williams in 1949 where they worked odd job while attending what was then Sacramento State. They were both involved with the Williams Methodist Church choir that performed throughout the Sacramento Valley.
In 1950, they moved to Sacramento, and graduated from Sacramento State in 1952. Mr. Jones received a degree in communications, then went to work for Sylvan Elementary School in Citrus Heights, where he taught sixth grade. He left Sylvan after about five years, working briefly for Aerojet General as training and safety director. He returned to teaching at Barrett Middle School but soon moved to vocational counseling and administration for San Juan Unified School District.
He was an avid golfer, camper and a collector of Austin-Healey1 cars. He enjoyed traveling, taking journeys to Europe and Mexico. He was a member of Delta Sigma Phi, E Clampus Vitus (a local historical society), the Carmichael Rotary, Kiwanis, and the Navy League. He was a founding member of St. Mark's Methodist Church.
In addition to his son Steve, he is survived by a daughter, Constance Jones of Tucson, Ariz.; four sisters, Nell Brockman of Ashville, Ala., Pauline Nesmith of Columbiana, Ala., Aline Starlin of Pelham, Ala., and Clarice Sexton of Eastlake, Ala.; one brother, Robert Jones of Cottonwood, Ariz.; and two grandsons.
Services will be held at 10:30 a.m. Thursday at the First United Methodist Church of Tucson. The family requests any remembrances be made to the Ernie and Charlotte Jones Memorial Scholarship Fund, P.O. Box 16711, Tucson, Ariz., 85732.
9/15/00
Gayle Kernick
February 18, 2017. Gayle, also lovingly known by his family as "Sarge" and "Pa", was born in Henderson, Texas, and grew up in Arkansas graduating from Lake Hamilton High School outside of Hot Springs. He went on to serve in the US Air Force as a sergeant and air policeman which brought him to California where he met his beloved wife of more than fifty-eight years, Gail Kernick, on a blind date. Gayle recognized the value of education as a young man and with the help of the GI Bill was able to earn his bachelor's degree from San Jose State University and Masters in Education from California State University Sacramento. He taught civics and social studies classes starting at Encina High School and then Rio Americano High School. Gayle was also very involved in the California State Bar's Law in a Free Society Program and he traveled to Washington D.C. to speak to the Senate Judiciary Subcommittee in support of Civic Education. After several years of teaching, Gayle moved into school administration, serving as Vice Principal at several San Juan Unified School District schools including Rio Americano, Encina, Mira Loma, and finally Bella Vista. A highlight for Gayle was taking a group of students to Taiwan, China and Japan to establish sister city schools with Mira Loma as part of their Pacific Rim Program. After retiring, Gayle was an active member in the California Retired Teachers Association holding many positions in Division 75 including President and Legislative Chair; Sons in Retirement (SIRs); and Kiwanis where he served as an executive officer. In addition, he truly enjoyed his monthly poker game and the Rio Americano retired teachers breakfasts. Gayle and Gail lived in Carmichael for more than 50 years in the "House of Two Gayles" where they raised their two sons, Gary and Glen. Gayle was an avid reader of Old West fiction and watched every cowboy movie ever made. He loved a good game of cards and dominoes and was always looking forward to the next trip on the calendar. Gayle is survived by his two sons, their wives Nancy and Brooke, his granddaughters Callie, Courtney, and Audrey, and his sister Inez Kernick of Benton, Louisiana. Gayle was preceded in death by his wife, Gail Kernick, who passed away in December 2014. A Memorial luncheon will be held on March 4th at 12PM at the Fair Oaks Community Clubhouse, 7997 California Avenue, Fair Oaks, CA 95628. If you would like to help Gayle's passion for education live on, the family suggests contributions in his name to: Retired Teachers Scholarship Foundation, Inc., P.O. Box 1451, Fair Oaks, CA 95628-1451.
Published in The Sacramento Bee on Feb. 26, 2017

Coash Gerry Kundert



Gerry Kundert was as defined by his football innovation and ability to mold small teams into big-school champions as he was by his favorite ride.

Kundert treasured his 1967 British classic Austin-Healey Sprite, a convertible no larger than a pulling guard, that he glided across Sacramento roadways like a skitterbug on a lake because it was just as low to the surface. The vehicle was as unique as the driver. The image of Kundert, even in recent years, peering from under an old faded blue fishing hat as he tooled around town, is indelible, the auto and the owner often cruising topless.

Kundert was a Mira Loma High School football coach from the 1960s through the mid-1980s, one of the first in the area to run the wing-T offense. His leadership influenced many former Matadors to become teachers and coaches. Stories have flowed since he died in his sleep at 86 on Feb. 18 of natural causes.

"We lost a great man," said Inderkum coach Terry Stark, who played quarterback for Kundert in the 1970s and got his coaching start with his mentor's help. "I was a young coach in the 1980s, knew nothing, and he taught me everything. I would sit in his backyard for years, with a chalkboard, and we'd go over plays. Every Sunday. He'd teach me, then erase the board and have me teach him.

"And the car? The kids at Inderkum would get so excited when he'd show up at practice. They loved the old coach and the old car."

Kundert and Mira Loma coaching partner Don Brown introduced the wing-T to Sacramento in 1962. Attending the Camellia Bowl at Hughes Stadium, the coaches saw the University of Delaware run this deceptive offense – who had the ball? – in which undersized linemen held their own.

The coaches obtained game film and playbooks and implemented the wing-T at Mira Loma. The Matadors became a powerhouse in the 1960s and '70s, winning 16 league titles and producing some of the best teams in region history in the late '60s and early '70s. Players tossed the coaches into the school pool to celebrate 10-0 seasons. Brown was the head coach from 1962 to 1978 with Kundert his top assistant; and Kundert was the head coach from 1979 to 1986.

"The wing-T allows everyone a chance to compete, and you know what? It's a lot of fun to confuse defenses," Kundert told me years ago.

Kundert never totally stepped away from the sport, returning in assistant or advisory roles over the decades to those he once coached, including Mike Dimino at Del Campo, Randy Blankenship at Aptos High near Santa Cruz and John Jessen, who has won championships in Alaska. Each coach continues to use elements of the wing-T.

Blankenship took the wing-T to Nevada Union in 1984 and transformed the Miners into a powerhouse, and the trend continued into the 2000s under another Kundert product, Dave Humphers.

"Kundert had a huge impact to so many of us," Dimino said. "If it wasn't done right in practice, you did it over and over and over. What he taught all of us was that there is a minimum standard of excellence, almost perfection, and we all bought in."

The old coach was a throwback, Dimino said, laughing.

"When practice was over for us, in the late 1970s, Don Brown would drive off, but Kundert still had a lot of us doing drills," Dimino said. "Brown would get 100 yards down Norris Avenue, stop, honk his horn, and yell, "OK, Gerry, that's it. Let the guys go!' "

Kundert graduated in 1949 from Grant, where he earned Bee All-Metro honors as a lineman and linebacker. He attended Saint Mary's, where he played football, for two years, then served in the Air Force from 1951 to 1954, coaching the offensive line for the base teams. Kundert played his final two college seasons at Utah, ending in 1956.

Kundert often said his greatest joy was coaching his sons at Mira Loma – Corrie, Ken and Keith (daughter Nancy also graduated from Mira Loma).

"My dad will be missed," Corrie said. "He was a true coach. We had plays scribbled on paper across the house, X's and O's everywhere. He was so enamored with the wing-T. As for the old car, sometimes players would move it from the parking lot into the quad at Mira Loma. He couldn't find it. Family, coaching, that old car – those were his prides and joy."

This article neglects to mention that Gerry was head coach at Encina in 1963-64 before he went to Mira Loma.

Clifford A. LaForge
July 12, 1932 - January 16, 2019

Clifford A. LaForge died on January 16, 2019 at his home in Springfield, OR. He was 86 years old.

Uncle Cliff was born on July 12, 1932 in Klamath Falls, Oregon to Fred and Neva Jo LaForge who predeceased him. He is also predeceased by two half brothers, Gordon Trenary and Gene Trenary.

Cliff earned a Master's degree in English and went on to teach high school his entire career in Sacramento, CA. He was an avid backpacker and camper and for many years, spent summers in the Seeley Lake, Montana area. He was an avid traveler and thought nothing of striking out on cross-country journeys, dropping in on cousins, nieces and nephers along the way. Cliff enjoyed theater, opera and riding his motorbike. He always had a good book to share and a great story to tell. An entertaining conversation could be expected when he visited. He was a damn good Democrat.
Cliff was a member in good standing at St John the Divine Episcopal Church. He is survived by the St John's church community and nephews Dale Trenary of Grass Valley, CA; Mark Trenary of Helena, MT; Gary and Rod Trenary of Frenchtown, MT; Kim Trenary of Apple Valley, MN; Brad Trenary of Vashon, WA; and niece, Jean Trenary of Walla Walla, WA. He also leaves behind numerous cousins and friends.
A memorial service will be conducted on Saturday, March 9, 2019 at 11:00 am at St John the Divine Episcopal Church. Clifford's remains will be interred at the Willamette National Cemetery in Portland, OR on Monday, March 11, 2019 at 1:00 pm will full military honors.
All memorial are to be made to the Episcopal Church of St John the Divine at PO Box 1537, Springfield, OR 97477 in lieu of flowers.
Sacramento Union, January 18, 1983
Ben Leafe
Ben Leafe, 53, a teacher in the San Juan School District, died Sunday (Jan. 16) in a local hospital.
Memorial services will be held at 7:30 p.m. Wednesday in the Lind Brothers Mortuary, 4221 Manzanita Avenue.
Mr. Leafe, a member of the Sacramento State University Alumni Club, earned his bachelor's and master's degrees at Sacramento State. He was also a member of the Sierra Club and the San Juan Teachers Association.
Mr. Leafe was the husband of Irene M. Leafe and the father of Gregory A.and Daniel E. Leafe. He was the brother of Belle Wishnewitz and Virginia, Harry and Nancy Leafe.
He was a native of Canton, Ohio.
Inurnment will be at Home of Peace Cemetery.
10/3/00
LEAFE, Irene
Resident of Carmichael, July 16, 2006. Age 79 years. Beloved wife of Ben

Leafe, who preceded her in death. Survived by her sons Gregory A., and
Daniel E. Leafe. A member of the San Juan Retired Teachers Association.

A long-time member and officer of the Sutter Auxiliary. A native of
Evanston, Illinois. Friends are invited to attend memorial services

Tuesday, July 25 at 2pm at Lind Brothers Mortuary, 4221 Manzanita Ave.
In

t

urnment at Home of Peace Cemetery. Remembrances may be made to the

Sutter Medical Foundation.

Services entrusted to Lind Brothers Mortuary 916.482.8080.

Published in the Sacramento Bee on 7/22/2006.
Sacramento Bee, Sept. 12, 2000
LATIMER, MARGARET D.
Passed away in Sacramento on September 9, 2000 at age 74. Mother of Susan Latimer and Ralph Latimer and his wife Georgia, grandmother of Bobby and Kristen Latimer. Also survived by sister, Nancy Jones of Oregon, nieces, nephews, cousins, friends, and neighbors. A native of St. Paul, Minnesota, with a BS degree from the University of Minnesota and a MA degree from the University of San Francisco. Peg taught in this area from 1966 to 1991. Friends are invited to attend graveside services at Fair Oaks Cemetery, 7780 Olive Street, Fair Oaks, on Wednesday, September 13 at 11:00 AM. Arrangements in care of Lind Brothers Mortuary Carmichael Oaks Chapel, 4221 Manzanita Avenue, Carmichael, (916) 482-8080.
LUKEHART, Donald
Long time school teacher and wrestling coach, of Sacramento, passed away while surrounded by his family on March 24, 2006. He is survived by his wife of 50 years, Sharon Lukehart; children Tim (Sarah), Jody (Debbie), Hugh (Tracy), Sherie (Robin), and preceded in death by his eldest son Greg. He has 13 grandchildren and 2 great-grandchildren. His greatest joys in life were teaching, spending time with family and his grandchildren (''I learned more from them than they learned from me!''), all things Chevy and swap meets, gardening, playing cards, duck hunting, fishing, and living life always, and in all ways, in the now. A celebration of his life will be held on Sunday, April 2, 2006, at 11:00am at Towe Auto Museum, 2000 Front Street, Sacramento, CA. Friends and family are welcome.
Published in the Sacramento Bee on 3/28/2006.


3/31/06
Vincent J. MARELICH Sr
Of Carmichael, CA, April 28, 2013, a native of San Francisco, CA, age 79 years. Husband of the late Theresa Marelich. Father of Katherine (Robert) Dugdale, William (Kim) Marelich and Vincent Marelich Jr. Grandfather of Bradley, Ryan, Carter and Logan. In lieu of flowers, memorials preferred to Special Olympics. Friends are welcome for visitation Wednesday, May 1, 2013 from 4-8PM at PRICE FUNERAL CHAPEL (6335 Sunrise Blvd., 725-2109) and are invited to attend the Mass of Christian Burial Thursday 10AM at OUR LADY OF THE ASSUMPTION CATHOLIC CHURCH (5057 Cottage Way, Carmichael). Interment Fair Oaks Cemetery.

Sacramento Bee, July 27, 1967
John Burns McCalman
Memorial services for John B. McCalman, 36, a civics teacher at Encina High School, will be at 11 a.m. Saturday at the Fruitridge Christian Church.
McCalman, of 8452 Bennington Way, died after he became ill at a community swimming pool Tuesday. An autopsy was performed, but tests to determine the cause of death have not been completed.
A native of Chicago, McCalman came to Sacramento 20 years ago. He was a graduate of C.K. McClatchy High School, obtained his bachelor's degree at the University of California at Berkeley, and his master's degree at Sacramento State College.
McCalman was president of the faculty association at Encina and chairman of the board at the Fruitridge Christian Church where he also served as superintendent of the Sunday school.
Survivors include his widow, Carol; three children, Charron, Burns and Christine; his parents, Mr. and Mrs. Don A. McCalman of Sacramento; a brother, Donald of Andrews Air Force Base, Washington, D.C.; and a sister, Mrs. J.T. Sidener Jr. of Berkeley.
Friends may call at the New Mission Chapel of Andrews and Greilich Funeral Home until 7 p.m. Friday.
10/3/00
Donald G. McCormick "Coach" McCormick, of Carmichael, was born April 13, 1925 and passed away on November 6, 2018. No services were held. [Published in The Sacramento Bee on Dec. 8, 2018]
In 2012 Coach McCormick was elected to the Encina Hall of Fame
Don and Bebe McKenzie, life long residents of Sacramento passed away peacefully after long lives full of family, friends, fun and giving. Bebe/Mom/Nana, age 89, left us on December 18, 2018. Bebe was an active learner and contributor throughout her life. Her bright smile, curiosity and free spirit inspired many. Education was an integral part of her being. She graduated from Sacramento HS and earned a Master of Arts in English at CSUS. Bebe was a passionate teacher of writing and literature at both Encina and Mira Loma High Schools. Her interest in history, culinary arts, gardening, environmental causes, and all living beings inspired her to participate in a variety of organizations and volunteer causes. And, as all that know her remember, Bebe loved the sunshine! On January 20, 2019 Don/Dad/Papa, age 94, passed away, just 33 days after Bebe. Don was a meticulous creator and quiet participant. Athletics were an important facet of his entire life. As a youth and young adult he was always part of a team; basketball and baseball brought him great joy and success. Dad was a proud alumnus of Christian Brothers High School (Class of 43). The Brothers provided guidance and friendship he valued throughout his life. While teaching at Highlands and Foothill High Schools Don coached and refereed a variety of sports. In retirement Dad took great pride in his landscape creations, gardening techniques and intricate birdhouse designs. Together Don and Bebe shared a love for bird watching, gardening, travel, cats, and family. Santa Cruz and their grandchildren's sports and music interests brought joyous memories to both. Don and Bebe will be deeply missed by their children Meredith Ryan (Pat) and Patrick McKenzie (Kerry). McKenzie Ryan (Jessica), Travis Ryan (Sarah), Reid McKenzie, and Madison McKenzie will have life long memories of their loving, "cool", and "fun" Nana and Papa. Great-grandchildren Quinn and River Ryan brought great joy and smiles to "Nana Bebe" and "Old Papa" in their final years we will ensure they never forget the love of their great-grandparents. This summer the family will gather in Santa Cruz to celebrate the long, full lives of Don and Bebe. Mom and Dad will have their final earthly rest in Monterrey Bay near their favorite beaches Seabright and Twin Lakes. We are certain they are now gardening together in the sunshine with a cat or two by their side. If you wish to make a memorial contribution in Don and Bebe's name the Sacramento SPCA and Christian Brothers HS would please them.
3/17/19
MESQUITA DE VANEGAS, Ann-Marie Frances
Born March 30, 1965 in Reno, Nevada; passed away October 25, 2011 from injuries sustained in a fall. Ann-Marie is survived by her husband, Roberto, his parents, Jaime and Maria Vanegas, niece Heidi Vanegas, her parents William and Frances Mesquita, brother Mario Mesquita (Alexandra), nephew Alessandro of Rome, Italy; aunt Judy Waggoner of Napa, uncle Don Mesquita (Linda) of Foresthill, cousins Kara Broussard and Alex Pereira, their spouses and children and many family members in West Sacramento and Reno. She was preceded in death by her maternal grandparents, Doyle and Althea (Kramer) McGwinn; her paternal grandparents, Mario and Anna (Palamidessi) Mesquita, great-grandparents and aunts and uncles. Ann-Marie attended McClatchy High School and graduated from UC Davis, obtained a teaching credential and master's degree from Sacramento State University, and attended the language institute in Monterey. She spent several summers living in Spain and studying Spanish culture; she was active in organizing cross-cultural exchange trips to Costa Rica with her students. Ann-Marie taught at Encina and El Camino High Schools for many years. She was the advisor to the Spanish Club, organized Spanish cultural events, taught different levels of Spanish, including AP classes, and was always available for translations. She enjoyed traveling from an early age and was an AFS exchange student to Venezuela in high school. She traveled extensively in Spain, Costa Rica and England. With her husband, Roberto, she traveled to New York City, Colombia, France, Mexico, Costa Rica and Prague. Along with travel, she enjoyed languages and spoke English, Spanish, Portuguese, Italian, and was starting German. Ann-Marie's family and friends will remember a joyous, laughing person with a welcoming smile for everyone. We will remember the little girl who continued her love of reading, the ocean, scary movies, dancing and all animals into adulthood. We will remember the girl who loved her family, her cats, and her students and who always had the patience, time, and kindness to help others. Her passing has left a void in our hearts. A memorial service for family and friends will be held at the GEORGE L. KLUMPP CHAPEL OF FLOWERS, Riverside Boulevard and 2nd Avenue, 2:30 pm Friday, November 4, 2011. Seating is limited. A graveside service will be held at St. Mary's Cemetery, 6700 21st Avenue, Saturday, November 5, 2011 at 11:00 am. Students who wish to pay their respects are encouraged to attend the St. Mary's service. Donations can be made to the Sacramento SPCA or the El Camino High School Foreign Language Department. Published in The Sacramento Bee, November 1, 2011
The Sacramento Bee, Sunday, January 15, 2005 Wulf Meyer, art teacher,

fled E. Germany
Wulf Meyer, a 34-year Sacramento resident who enjoyed dual success

as an art teacher and artist, died in a local hospital Wednesday. He was
59. The cause was malignant melanoma, his family said.
"Wulf was always busy. You never really saw him sit down," his

wife, Wendy Meyer, said of how he juggled two careers at once. "The guy

had energy you could only hope to have."
Mr. Meyer, who fled East Germany during the Cold War, taught art in

the San Juan Unified School District for 24 years, starting in 1974.

Each day after classes, he would create avant-garde paintings and

sculptures in his private studio. His art was exhibited throughout

Northern California.
"He liked to identify himself more as a professional artist than as

a teacher," his wife said.
But his commitment to teaching was solid, said Maggie Carmona, one

of his former students at Sylvan Middle School, one of the five campuses
where Mr. Meyer taught. "Mr. Meyer said, 'Everyone's an artist,'" said

Carmona, 26, a community relations coordinator in Sacramento for the
Whole Foods Market chain. "He always pushed you to do your best and to

never give up.

Even if you thought your drawings were terrible, he would encourage

you,"

she said.
Wulf Heinz Meyer was born in Germany on April 5, 1945, a month

before Nazi forces surrendered. After Germany was split, his parents

also separated, and he was raised by his mother on the communist side in

East Germany.
One terrifying night, the young Mr. Meyer watched from his home's

window as one of his friends was gunned down by Russian soldiers for
violating the curfew, Wendy Meyer said. "His little friend lived in an

apartment across the street from Wulf," she said. "One night, the friend

was running across the street to deliver some medicine to his

grandmother when a spotlight went on and a bunch of Russian soldiers

opened fire, killing the boy on the pavement.
Seeking freedom, Mr. Meyer and his mother escaped to West Germany.

"His mother had dated some Russian soldiers, so she easily got one-day

travel passes to West Germany, Wendy Meyer said. Armed with such passes,

both entered West Germany one day in 1954 and requested, and received,

asylum. Four years later, mother and son immigrated to the United States.
Mr. Meyer spent the second part of his youth in Hagerstown, MD.

Three years out of high school, he joined the US Air Force, serving at

Hickam Air Force Base in Hawaii from 1966 to 1969 before being sent to

Travis Air Force Base.
Discharged in 1970, after he became a naturalized US citizen, he

moved to Sacramento. He then became an art major, first at American

River College and then at California State University, Sacramento. In

1974, after obtaining a bachelor's degree in art along with a teaching

credential from CSUS, he began his teaching career in the San Juan

Unified School District.
Primarily an art teacher, Mr. Meyer also taught social studies. He

spent his first year at Bella Vista High School, followed by five years

at Mesa Verde High School. From 1980 to 1982, he was on the faculty at

Pasteur Middle School, then went to Sylvan Middle School for 14 years.

In 1996, he transferred to Encina High School, where he ended his

teaching career in June 1999.
Since then, he had worked as a graphic designer for Mesa Verde

Beverage Co. Inc. of West Sacramento.
Mr. Meyer married the former Wendy Groth in 2000. It was the second

marriage for both. He had previously been married to Katherine Reber.
Mr. Meyer, who was diagnosed with cancer in 2001, entered Sutter

General Hospital on Jan. 4 after his health worsened. He died eight days
later.
Survived by wife Wendy Meyer of Sacramento, son Erik Wulf Meyer of

Rancho Cordova, stepson Bret Buchanan of Sacramento, sister Leona Simms

of Hercules, and one grandchild.
A celebration of his life will be at 6:30 PM Saturday at Mesa

Beverage Co. Inc., 3500 Carlin Drive, West Sacramento. In lieu of

flowers, the family requests that donations in his memory be made to

Sutter Medical Center Foundation, 2800 L St., Suite 620, Sacramento, CA

95816, or to the Sacramento SPCA, 6201 Florin-Perkins Road, Sacramento,

CA 95828.


6/18/06
"A great man passed away this week. Coach Bob Oliver was not only an accomplished MLB ball player in his day, he also served as a father figure to so many young guys over the years. He not only taught the essence of baseball, he taught us self-respect, discipline, fearlessness, honor, and family. His smile, his stories, his grueling drills, his character, generosity, love, and sheer power was a force that shaped many of our lives. I spent three of the most formative years of my life with him on the baseball field, traveling to games, training, spending time with his family at his home. 
When we last spoke on the phone about five years ago, the joy in his voice was evident. "Sue-jee!", he always called me by his own version of my last name. We talked about life, baseball, family, career, hopes, dreams... the stuff we used to discuss in the dugout or driving in his old pickup back in high school. Coach Oliver was the reason I switched high schools and enrolled at Encina. He was the reason I went to play ball in college, the place where I met my wife and life eventually unfolded. As we caught up on the decades since those games in the Sacramento summer heat, we laughed over the memories and conversation fell into a natural rhythm that can only be described as the feeling a ball player has when walking onto a field of freshly cut grass on a spring morning. It feels as if, even for just a moment, all is right with the world. Baseball follows a natural rhythm for some of us, and that unspoken beauty of the sport colors our relationship with the game and one another. It was nice to feel that again with Coach Oliver, even if over a cross-country phone call.
That man was a force of nature. He taught me that sometimes you have to stick a batter in the ribs. You always wear your uniform with pride and conduct yourself with dignity. You hustle between the lines, run through the bag, respect yourself and the game, stand strong and give yourself for the team. If there's a fight going down, you clear the bench. Honor your catcher at all times, never swim the day before a game, always encourage one another in the field and in the dugout, never talk back to the coach, and every season starts with several weeks of manual field maintenance. 
When you have a chance, look up the name "Bob Oliver". He was an amazing MLB player, had a great career, became a community leader, raised a couple great kids... one of which played 20 years in MLB. But I'll always remember him as the larger than life coach who cared enough to adopt me into his world for a few years. Thank you, Coach." 
Derek Schujahn, Student Body President, Encina High School Class of 1991
Obituary: Joseph Patitucci, teacher, artist, community leader

He loved growing fruit and vegetables on his six acres in Carmichael.

By Bill Lindelof -- Bee Staff Writer
Published 5:35 a.m. PST Tuesday, Jan. 22, 2002

Joseph Patitucci was many things: artist, professor, farmer and community leader. But he often described himself in humble terms.

Twenty years ago, he stood in his magnificent vegetable garden in Carmichael and told a newspaper reporter collecting stories about urban gardeners that he was "just an Italian peasant."

Mr. Patitucci, 70, died from kidney failure at his Carmichael home Jan. 13 -- surrounded by family that Monday remembered his talent and exuberant nature.

A memorial service is scheduled for 2 p.m. Feb. 1 at St. Francis Roman Catholic Church, 1112 26th St., Sacramento.

For decades Mr. Patitucci farmed his six-acre property off Stanley Avenue, a spread that yielded a bounty of tomatoes, corn, nectarines, carrots and other crops.

What the family didn't eat, he sold at a roadside stand.

"About the only thing I don't have is a banana tree," he once joked, revealing his sunny disposition remembered by family and students.

Mr. Patitucci tilled the soil between school breaks during a long career that included teaching at El Camino High School in 1959-60, Encina High School from about 1960-75 and American River College full time from 1975 until about four years ago.

He contributed to the Sacramento creative community as an artist, a supporter of fellow artists and a mentor for aspiring artists.

"He had this wonderful vitality," said his wife, Lucille. "Students said when they left his class, they were inspired. He made everybody feel so good."

He was encouraging not only to students, but also with family, said his sister, George Ann Patitucci.

"He was inspirational," she said. "He was always so positive, upbeat and happy."

Mr. Patitucci, a community activist, was the founding president of the Carmichael Creek Association and closely followed the actions of the Carmichael Water District. He was a sounding board for Sacramento County supervisors because of his knowledge about the community.

Another family venture led by Mr. Patitucci and his brother Jack was the family Christmas tree lot at Fulton Avenue and Fair Oaks Boulevard for more than a half-century.

The native of South Bend, Ind., was a University of California Master Gardener, and Mr. Patitucci tried new varieties of plants and growing methods at his Carmichael property, sharing what he had learned with fellow gardeners.

He married Lucille Arnold in 1954. The couple welcomed people to their home to discuss art, philosophy, gardening, cooking, winemaking, politics, religion and life.

He is survived by his wife; brothers, Jack Patitucci of Placer County and Patrick Patitucci of Sacramento; sisters, Connie Patitucci of Seattle, Wash., and George Ann Patitucci of Sacramento; sons, Michael, Joe, Jack, Paul and Mark, all of Carmichael; daughter, Catherine of Carmichael; and four grandchildren.

Remembrances may be sent to a charity of the donor's choice or the Kidney Foundation, 553 Pilgrim Drive, Foster City, CA 94404.
1/22/02
George W. Porter born June 17, 1929 in Sacramento, CA, passed away on March 7, 2013 at home with his family and friends. He was survived by his wife Carol, Brother Leo, Bill (wife Alyce), and cister Virginia; children Denise, George (wife Debi), Jerry (wife Michelle), and step-children Steve, Richard, and Erin; grandchildren Cameron (wife Jessi), Courtney (husband Brent), Whitney, Hailey, Ellie, Beth, and step-grandchildren Stephanie, Tanner, Reid, Dustin; and great-granddaughter Jacquelyn. George graduated from Burlingame High School in Burlingame, CA. He continued his education at Texas Christian University (TCU) for one year and San Jose State University for the remainder of his college years, receiving his Bachelor's Degree, Master's degree and Administrative credential. He played football at both TCU and San Jose State. George was drafted into the pro football league and played for the Philadelphia Eagles for one year. His first teaching and coaching job was at Jackson High School, Jackson, CA from 1954-1958. He then continued his coaching career at Monterey Peninsula College (MPC), Washington State University, and Utah State. The 1961 MPC football team under George Porter won the Coast Conference Championship with a 6-3 record. George taught a short time at Encina High School and was Head Coach for the Sacramento Capitals semi-pro football team. He retired as an administrator from the Grant Union High School District in 1993. George had a passion for all sports and outdoor activities, especially football, hunting, and snow skiing. A special thanks to Dr. Campbell for taking a special interest in George along with his "ER" nurses and doctors and the hospice team at Kaiser Permanente. Family and Friends are invited to a "Celebration of Life" on April 14, 2013. Please email us gwpmemorial@hotmail.com and we will respond with the details. Published in Sacramento Bee on March 26, 2013.
Headline: YVONNE M. PRICE TAUGHT SPANISH AT ENCINA HIGH
Publication Date: December 03, 1994
Source: The Sacramento Bee
Obituary: Mrs. Price, 65, died Wednesday in a Carmichael hospital. The Chico native, born Jan. 24, 1929, graduated from Notre Dame High School in Belmont and earned her teaching credential from California State University, Chico. She taught in Cloverdale and Santa Rosa before her marriage to Bill Price on Sept. 2, 1956. The couple then moved to Sacramento, where Mrs. Price did volunteer work for Mercy San Juan Hospital.
Mrs. Price returned to teaching after taking time off to raise her family. She was teaching Spanish at Encina High School in the San Juan Unified School District.
She was a member of Sigma Kappa Sorority, past president and life member of the Mercy Guild, and a member of St. Mary's Catholic Church.
A vigil will begin at 7:30 p.m. Sunday in Newton-Bracewell Chico Funeral Home. Besides her husband, survivors include her daughter, Renee Price of Sacramento; brothers, James McLain of Cool and Robert McLain of Chico; and sisters, Angelique Lappin and Janiece McLain, both of Chico. She was preceded in death by her son, Kevin. The family requests that any memorial contributions be made to the American Cancer Society, P.O. Box 160586, Sacramento, 95816.
9/15/00
The Sacramento Bee, Oct. 31, 1982
John T. Psiahas
Memorial services are scheduled Monday for John Theodore Psiahas, an Encina High School teacher and department chairman who died Friday of cancer. He was 54.
The service for Mr. Psiahas will be t 7:30 p.m. in St. George's Episcopal Church in Carmichael, where he was senior warden from 1976 until 1980.
Mr. Psiahas was a teacher and foreign language department chairman at Encina for 25 years before he left last March because of illness.
A native of New Jersey, he graduated from Western State College in Gunnison, Colo., and also attended the University of Paris. He was a sergeant in Marine Corps intelligence in the Korean War.
He belonged to the Comstock Club, Oak Plains Masonic Lodge 789, Theta Chi fraternity, the American Council on the Teaching of Foreign Languages and several other professional organizations. He also was an honorary life member of the Parent-Teachers Association. In 1978, Mr. Psiahas was the sergeant-at-arms at the Episcopal Diocese Convention.
Surviving are his wife, Eugenia Bo

o

th Psiahas; daughters, Michele Thomas, Karen Cooper, and Carla Psiahas; stepson, William F. Raborn IV; stepdaughter, Julie Raborn; brother, Nicholas T.; sisters, Harriet LaBrunda, Mary Ballas and Georgia Condos; and one grandchild.
The family requests that any remembrances be sent to the American Cancer Society or to the St. George's Church Memorial Fund. Arrangements are by Lind Brothers.
9/19/00
Lesley B. Saladen
Born Miamu Benita Valk on May 10, 1921; in Narva, Estonia, she came to this country in 1924, and grew up in Kansas City, Kansas. When she became a US citizen, she changed her name to Lesley Bernice Dasura. She graduated from Wyandotte High School in 1940, Kansas City Jr. College in 1942; Kansas State College, Emporia, in 1944; graduate studies at USC, Los Angeles and Sacramento State College with majors in English, Drama, Public Speaking and a minor in ...Psychology, and obtained her teaching credential. She was a member of Delta Sigma Epsilon Sorority, Emporia, KS. She began her teaching career at Wyandotte High School in Emporia, KS (1944-45); moved and taught at Kingsberg High School (1945-1947) and Santa Ana High School (1947-1952), She acted in summer theater in Priscella Beach Theater, Massachusetts, and wrote, directed and acted in a radio show in Kansas City, KS; and community theater in Kansas City, Santa Ana and Laguna Beach. She married Bruce Saladen and had three children Dana Saladen, Mark Saladen and Michael Saladen. She settled in Sacamento, CA in 1953, and became a teacher at Encina High School from 1959-81, where she taught English, Drama and Public Speaking; and directed afterschool plays and musicals. In 2010, she moved to Cherry Valley, CA where she passed on March 4, 2015, at home. She is survived by her three children, 8 grandchildren and 7 great-grand children. Services will be held on March 16, 2015, at 11:00 am at the Good Shepard Lutheran Church 1615 Morse Ave., Sacramento, followed by a grave side memorial at East Lawn Memorial Park, 4300 Folsom Blvd, Sacramento, at about 12:30 pm.
Headline: FIDENCIO H. SALAZAR JR. WAS SOCIAL WORKER, `VERY, VERY CARING
PERSON'
Publication Date: April 27, 1996
Source: The Sacramento Bee
Obituary: Fidencio H. Salazar Jr., who earned a bachelor's degree in art from UC Davis, later taught at Encina High School -- but only for six months.
"That experience turned him into a social worker," said his wife, Diamantina Vasquez Salazar.
Mr. Salazar went on to earn a master's degree in social work from California State University, Sacramento.
Mr. Salazar died of cancer Thursday at Methodist Hospital in Sacramento. He was 60.
Except for a two-year stint as a social worker with the child protective services division of the Los Angeles County Welfare Department, he spent his entire career with the state Department of Social Services.
Most of his state service was spent as a referee, hearing officer, then as an administrative law judge conducting hearings on Medi-Cal eligibility issues.
A native of Sacramento who was reared in Yolo County, Mr. Salazar was a 1954 graduate of Clarksburg (now Delta) High School. He then attended the University of California, Davis.
Though not a lawyer, he became a Department of Social Services judge in the mid-1980s during a reorganization that saw hearing officers grandfathered in as administrative law judges.
"He had a real empathy for people and was just a very, very caring person," said Lonnie Carlson, the department's presiding administrative law judge in Sacramento. "He was an excellent . . . judge who wrote well-reasoned decisions and conducted very comprehensive hearings."
Mr. Salazar suffered a heart attack in the winter of 1995 and, while recovering, learned he had cancer, his wife said. Nonetheless, he continued working part time until two weeks ago.
"He really enjoyed his job and he liked helping people," his wife said.
In addition to his wife, Mr. Salazar is survived by daughters Luisa Beymer of Elk Grove and Christina and Theresa Salazar of Sacramento; brothers Martin of Rancho Cordova, Fernando of West Sacramento and Carlos of Sacramento; sisters Josephine Ceccato of Sacramento and Clara Arlotto of Fair Oaks.
A Mass will be celebrated in Mr. Salazar's memory at 10 a.m. Monday at Holy Spirit Church, 3159 Land Park Drive. Burial will be in St. Mary's Cemetery.
9/15/00
Sacramento Bee, March 25, 1988
Jerome R. Sando
Funeral services for Jerome R. "Jerry" Sando, a teacher and administrator with the San Juan Unified School District for the past 28 years and the vice principal of Del Campo High School at the time of his death, will be at 1 p.m. Saturday in the Good Shepherd Lutheran Church, Arden Way and Morse Avenue.
He died of a stroke Wednesday at age 49.
Mr. Sando taught at Jonas Salk Junior High School and was a counselor and administrative assistant at Encina High School before transferring to Del Campo in 1986.
He was chairman and a team member of the Western Association of Schools and Colleges, which is responsible for California high school accreditation, and was a member of the San Juan Administrators' Association and the Association of California School Administrators.
A native of North Dakota, Mr. Sando was raised in California and received a bachelor's degree in biological science from Whitworth College in Spokane, Washington, in 1960.
He was a member of the Phi Delta Kappa Fraternity, Carmichael Elks Lodge No. 2103 and East Sacramento Rotary Club.
Mr. Sando is survived by his wife, Carol, and children, Michael, Jill and Julie, all of Carmichael; parents, Rudolph and Ruth Sando of Citrus Heights; and brothers, Gordon of Atascadero, and Robert of Los Osos, San Luis Obispo County.
The family requests that any remembrances be made to the Del Campo High School Scholarship Fund, 4925 Dewey Drive, Fair Oaks, 95628, or the Good Shepherd Lutheran Church, 1615 Morse Ave., Sacramento, 95864.
9/15/00
Sacramento Bee, August 21, 1979
William M. Scott
Services for William M. Scott, 56, a teacher and coach at Encina High School, will be at 10 a.m. today in the Lombard and Co. Funeral Home. Burial will follow in Camellia Memorial Lawn.
Mr. Scott, who had been with the San Juan Unified School District for 20 years, died Thursday after a three-week illness.
The Yuba City native taught mathematics and industrial arts and was an assistant coach for the track, football, cross country, and diving teams. He attended Yuba College, Colorado A and M, and San Francisco State University.
A Navy veteran of World War II, Mr. Scott leaves his wife, Johnye; daughter, Rory Bouvier of Nebraska, Roxy Gwinn of San Diego, Christine Harris of Pear Valley, and Johnette and Vickye Scott of Sacramento; sons, Duncan of Arizona, and Bob, Donald, and Bill Jr., all of Sacramento; brother, Perry of Arizona; and seven grandchildren.
10/3/00
Sacramento Bee, May 4, 2008
SIMMONDS, WILFRED C.
"Fred" was born January 25, 1926 in Wenatchee, WA, and passed away April 22, 2008 in his Carmichael home at the age of 82. He graduated from Omak High School in 1944. He was the first boy scout to have the rank of an Eagle Scout in Okanogan County. At 17, he served as a Corpsman in the Navy. In 1951, he graduated from the University of Washington with a Bachelor of Science degree and a Teaching Credential. He taught for six years in Washington State before attending Oregon State College, where he received his Masters degree in Biological Sciences. In 1959, he and his wife, Peggy, moved to the Sacramento area where he taught 30 years in the San Juan Unified School District. He retired from Del Campo High School in 1990. Fred's major interests were camping, traveling, fishing, gardening, and dancing. He is survived by his caring and patient wife of 50 years; daughter Michelle and husband Brent Kriesch; three granddaughters, Siena, Brielle, Jenaya; and daughter Denise Lewis and friend Kevin Bradley; a brother Keith Simmonds and his wife Colleen of Spokane, WA; and a sister Janet Liddle and her husband Bill of Wenatchee, WA. For friends and family, an open house is planned on May 10th from 2 – 4 PM at the family home. In lieu of flowers, you may contribute to Valleyridge Foundation (Hospice), 6929 Sunrise Blvd. Suite 180, Citrus Heights, CA, 95610, or the American Cancer Society, 1710 Webster Street, Oakland, CA 94612.
James William Smith
Smith, James W. Dec. 3, 1925 - Sept. 17, 2014. James William Smith, of Walnut Cree, passed away peacefully, in Sacramento, with his loving partner, Mary Weaver, at his side. Born in Pasadena, CA to James Reginald Smith and Lorena Shemely Smith, Jim grew up in Vallejo, CA and graduated from Vallejo HS and UC Berkeley. He was a member of the Kappa Sigma fraternity and the Cal Basketball Team that was in the 1946 NCAA semifinals. In WWII, he served in the US Army Air Corps. With a Masters from CSU Sacramento and a doctorate from UC Berkeley, Jim was a well-respected teacher, coach, principal, and district administrator. He mentored new teachers, led staff development programs, wrote scores of successful grants for his districts, and advocated for technology in classrooms, program evaluation, nutrition and physical education. Jim was the first principal of Sacramento's Encina HS to graduate students before becoming an Assistant Superintendent in the San Ramon Valley USD. He will be remembered as a positive, quick-smiling team member who was helpful, innovative, and easy to be with. His themes: Be all you can be; finish strong. Jim was preceded in death by wife Barbara Varnum Smith, his parents, sister Jean Bercu, and nephew James Bercu. He is survived by children Stephen (Lisa) Smith, David (Trish) Smith, and Marcia Lerch; grandchildren Kym Smith, James D Smith, Lynn Lerch, and Daniel Smith; nephew William Bercu; and countless friends and colleagues. He cared deeply for his family and was especially proud of his grandchildren. At Jim's request, there will be no memorial service. If so desired, donations can be sent to the "James William Smith Memorial Fund" at Cal Alumni Association, 1 Alumni House, Berkeley, CA 94720-7520.
JoAnne Frances Smith
nee Sayon
Born on Nov. 23, 1945, passed away on April 16, 2006, in her home in Citrus Heights. JoAnne was born in Hoboken, NJ. She spent much of her earlier life traveling; her father was a career military man. JoAnne lived in upstate New York; Bermuda, Chatearoux, France; Ruislip England. She graduated from Central High in London in 1963. Since that time JoAnne resided in Sacramento. JoAnne graduated from Heald Business College with a certificate in business studies and worked as a secretary and Registrar at Encina High School for 32 years. She fought a lengthy, courageous battle with pancreatic cancer. She will be missed by her husband Chester Smith Jr. of Citrus Heights, her daughter Kristi Smith of El Dorado Hills, mother Stephanie Sayon of Citrus Heights, brother Richard Sayon and many aunts, uncles, and cousins in the USA and Canada. JoAnne was a giving, caring person. She was conscientious in her work; everyone was welcome in her home. She enjoyed cooking, sewing, dancing, reading, but mostly spending time with her family particularly on holidays. Family and friends are welcome to attend visitation on Wednesday, April 19, from 12:00-8:00 PM, with a recitation of the rosary at 6:00 PM, and funeral services on Thursday, Apr. 20, at 1:00 PM, both to be held at EAST LAWN MORTUARY, 5757 Greenback Ln., Sacramento. Interment to follow at Calvary Cemetery, 7101 Verner Ave. In lieu of flowers donations may be made to a charity of your choice.
Published in the Sacramento Bee on 4/18/2006.
STALLINGS, Lawrence Wharton
Went home to be with his Lord and Savior early Easter morning, March 31, 2013. He was born August 5, 1931 in Pryce, Kentucky to Urban & Marion Stallings. He is survived by Greta, his wife and love of nearly 60 years, and his four daughters, Gael Stallings of Hoopa, CA, Carla Lippert (Robert) of Fresno, CA, Rachel Schottky (Dave) of Citrus Heights, CA, and Dr. Carolyn Sue Seepe (Michael) of Danville, VA, as well as 15 grandchildren and 12 great-grand children. He is also survived by his sister, Katherine Sedille of Sacramento. He was predeceased by his parents and an infant son. Larry graduated from Natrona County High School (Casper, WY) in 1949, and from Hastings College (Hastings, NE) in 1953 with a BA. He went on to receive his BS from the University of Colorado in 1960. He and Greta then moved to Sacramento, where he taught mathematics for 25 years at Encina High School as well as at local colleges. He began his military career with the Army National Guard/Reserves in 1953 and taught artillery for many years in Fort Sill, OK before retiring in 1984 as a Lt Colonel. Larry's beloved hobby was singing, and his deep, booming, bass voice could be heard in the Fremont Sanctuary Choir, Davis Choral, the Sacramento Choral Society, and any other singing opportunities he could fit in his schedule. One of the high points of his musical life was being coached by Robert McFerrin (Bobby McFerrin's father). In lieu of flowers, Larry's wish is for donations to go to: Sacramento Choral Society and Orchestra, 4025A Bridge St., Fair Oaks, CA 95628 ( www.sacramentochoral.com) or Fremont Presbyterian Church. A Memorial Celebration of his life will be held April 17, 2pm, at Fremont Presbyterian Church, 5770 Carlson Dr., Sacto, CA 95619. Published in the Sacramento Bee, April 6, 2013.

Sacramento Bee, Feb. 18, 1985
Stearns, Jack. Memorial services are private. He was a long time resident and well known teacher of Sacramento. He died Thursday, February 14, 1985. He was 58. He served in World War II with the U.S. Navy. He is survived by his loving wife Geneal, daughter Rhonda, and son Robert, daughter Risa, son-in-law Rudy, and 5 grandchildren. He is the brother of Janet Mosley, Bob Stearns, Karen Hughes, and Ken Stearns. The family asks that any remembrances be made to The Mr. Stearns Scholarship Fund c/o Encina High School, 1400 Bell Ave., Sacramento, 95825.
9/15/00
CHAMBERS, Carole Rurie (Takeuchi)
May 13, 1947 - Sept. 29, 2013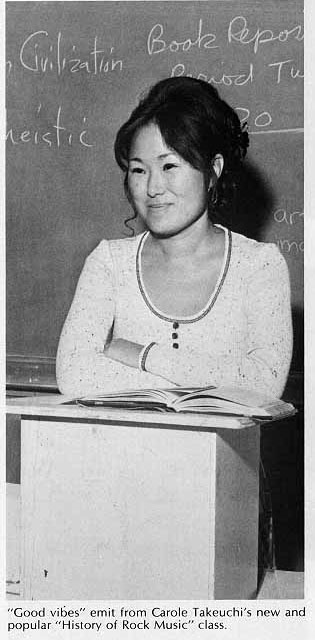 From 73 yearbook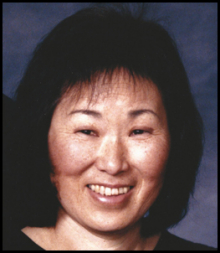 At age 66, Carole Chambers passed away peacefully in her home and with her family at her side. Carole is survived by her loving and devoted husband of 40 years, William (Bill) Chambers; son Dr. Darin (Ruth) Chambers and grandson Jonathan. She is also survived by mother Dorothy Takeuchi; sister Linda (Doug) Mukuno and sons Michael and Eric; sister Judy (Art) Gee and children Christopher and Jennifer; and brother Peter (Patty) Takeuchi and children Adam and Emma. She was pre-deceased by father Takeo Takeuchi.

Carole, oldest of four children, was born in Sacramento and graduated from U.C. Berkeley. Her exemplary 40-year career as a dedicated and passionate teacher/college professor began as an English teacher at Encina High School, then at Sacramento City College, where she taught English and Literature for 22 years before retiring in 2009.

A Celebration of Life will be held on Saturday, October 12, 2013,at 2:30 pm at East Lawn Elk Grove Mortuary, 9189 East Stockton Blvd, Elk Grove, CA. The family requests that in lieu of flowers, memorial donations be made payable to Stanford University, and mailed to: Development Services, P.O. Box 20466, Stanford, CA 94309,and please indicate 'in memory of Carole Chambers - BMT research' in an attached note. Gifts may also be sent on-line using the Stanford Cancer Center website.

Published in The Sacramento Bee on October 7, 2013
THOMPSON, David N.
Passed away peacefully on August 25, 2012, at the age of 76 from heart and respiratory problems. He enjoyed his teaching career at Mira Loma and Encina high schools and was an avid supporter of the Boy Scouts of America. He held many leadership positions in the Church of Jesus Christ of Latter-Day Saints. He is survived by his wife of 54 years, Ann; sons, Ray and Justin; daughters, Sue and Brenda; plus 13 grandchildren and 2 great-grandchildren. Friends are welcome for visitation Friday from 4-8PM at Price Funeral Chapel (6335 Sunrise Blvd., 725-2109) and are invited to attend services Saturday, September 1, 2012, 10AM at the Church of Jesus Christ of Latter-Day Saints, Van Maren Ward Chapel (7009 Van Maren Lane, Citrus Heights). Published in The Sacramento Bee on August 29, 2012.
Corvallis Gazette-Times, Aug. 4, 1982
WILLARD STEPHENS
Memorial services for Willard Glenn "Will" Stephens, 62, track and field coach for 28 years and at Oregon State University since 1977, will be at 11 AM Friday at Peavy Arboretum, on Arboretum Road, north of Corvallis off US Highway 99-W. Private family rites are planned on Friday at the Oaklawn Mausoleum.
Mr. Stephens died Tuesday at Good Samaritan Hospital following a sustained illness. He was born July 10, 1920, in Parma, Idaho. Mr. Stephens attended Franklin High School in Portland, where he was an outstanding track and field athlete. Following his graduation from Franklin in 1938, he joined the Marine Corps and served in both World War II and the
Korean War.
In 1953 he graduated from Lewis and Clark College, Portland, with a major in health and physical education. He was named the outstanding senior athlete.
The next year, Mr. Stephens was varsity track coach at Franklin High in Portland and then assistant coach until 1959, when he moved to California. For the next 18 years, he had charge of cross country and track and field coaching at Encina High School in Sacramento.
In 1978 Mr. Stephens was inducted into the Sacramento Golden West Track and Field Hall of Fame.
Survivors are his wife, Arla of Corvallis; five children. Kristi L'Armoreaux of Elk Grove, CA; Shelly Stephens of Sheldon, WA; Glenna Krauss of Riverside, CA; Matthew Stephen of Ontario, CAN; and Clay Stephens of Corvallis; a brother, Dennis Stephens, and two sisters, Penny and Junia Stephens, all of Portland.
The family suggests remembrances to the Will Stephens Memorial Scholarship Fund, in care of the OSU Beaver Club, Gill Coliseum, Corvallis, OR 97331.
12/12/00
Headline: JOHN L. TRACEY LONGTIME ENCINA HIGH TEACHER
Publication Date: February 11, 1993
Source: The Sacramento Bee
Obituary: A Mass of Christian Burial for John L. Tracey, a teacher for more than 30 years at Encina High School, will be held at 9 a.m. Saturday in St. John the Evangelist Church, 5757 Locust Ave. Entombment will be in Calvary Cemetery.
He died of cancer Tuesday in his Carmichael home at age 62.
Mr. Tracey was a founding faculty member at Encina, a San Juan Unified School District campus, and taught history, honors English and psychology. He previously taught for two years in Roseville.
A lifelong Sacramentan, Mr. Tracey attended McClatchy High School and the University of California, Berkeley, and earned a master's degree at the former Sacramento State College.
He was an 18-year veteran of the Army Reserve and a model railroad and airplane hobbyist.
Mr. Tracey is survived by his wife of 37 years, Del; daughters, Deborah Canino of Belmont, Kathy Tracey of Sacramento and Tammy Carter of Rio Linda; and two grandchildren.
A rosary will be recited at 8 p.m. Friday in Lind Brothers Mortuary, 4221 Manzanita Ave. The family requests that any remembrances be made to SWOG, a cancer research organization, c/o Jean Mack, Kaiser Medical Center, Medical Station H-Oncology, 2025 Morse Ave., Sacramento, 95825.
9/15/00
Sacramento Bee, Sept. 5, 1973
JERRY FRANKLYN WARREN, TEACHER
Rites for Jerry Franklyn Warren, business department chairman at Encina High School in the San Juan Unified School District and a former president of the San Juan Teachers Association, will be conducted at 10 AM tomorrow.
Warren, 40, was pronounced dead at a Carson City, Nev., hospital Sunday after he was rushed there while camping with his wife, Carole, and friends in Diamond Valley, near Markleeville, Alpine County. He apparently was strickened with a heart attack.
The 11-year Sacramento resident had been a member of the SJTA negotiating council for six years.
Before coming to Sacramento, Warren, a native of LaJunta, Colorado, taught for four years in McClave, Colorado, and prior to that, for two years in the mining town of Erie, outside of Denver.
He received his bachelor of arts degree in 1957 from the University of Northern Colorado in Greeley and his master's the next year from Western State College in Gunnison, Colorado.
In addition to his widow, Warren leaves his children, Jeffrey, Jay, Cathy and David, all of Sacramento; parents, Mr. and Mrs. L.M. Warren of Colorado, and brother, Joe S. Warren of Florida.
In addition to his membership in SJTA, Warren was a member of St. Andrew's Methodist Church. Burial will be in Mount Vernon Memorial Park.
1/4/01
Obituary: Tom Wilde, 88, was TV and movie actor
He became a drama teacher at Encina High after returning home to Sacramento.
By Steve Gibson -- Bee Staff Writer
Published 2:15 am PST Tuesday, February 1, 2005


Tom Wilde, a Hollywood actor who appeared in movie and television

productions before returning home to Sacramento and teaching high school
drama, has died. He was 88.

He died Jan. 22 of complications from a stroke, said his daughter, Stephanie

Meeker.


Mr. Wilde, who graduated from Sacramento High School in 1932, once appeared

in a television cigarette ad as the "Marlboro Man." He also appeared in such

television shows as "Dragnet," "M Squad," "The Untouchables," "Perry Mason,"

"Dick Powell's Four Star Theatre" and "Alfred Hitchcock Presents."


In Sacramento, he taught English and drama for 10 years at Encina High

School, and during summers performed in numerous Music Circus productions,

his daughter said.


He and his wife, Neva, who died in 1999, teamed to become champion duplicate

bridge players, their daughter said. The couple, who were married 61 years,

lived in Land Park.


"He was always so vibrant, enthusiastic, optimistic, so full of energy," his

daughter recalled Monday. "It's hard to believe he's gone."


Mr. Wilde and his future wife began dating when both were students at

Sacramento Junior (now City) College, where he majored in drama. He later
earned a bachelor's degree at San Jose State College.


During World War II, he served as a bomber pilot in the Pacific, and after

the war pursued an acting career full time, performing in plays and musicals

on the road. By the early 1950s, he was working in Hollywood, except for

summer stock musicals. But a 1964 auto collision that crushed Mr. Wilde's

throat cut short his professional acting career, his daughter said. A year

later, he returned to college and earned a teaching credential.


Fiercely independent, Mr. Wilde lived on his own until Jan. 9, when he

suffered a stroke, his daughter said. "He was a character," she recalled
with a smile. "When he couldn't drive anymore, he got a red electric

scooter, and used it to go down to Brownie's." Brownie's Lounge was Mr.

Wilde's favorite watering hole, a tavern in the South Land Park Hills

shopping center. "For a while he went there at least once a week," she said.
"He'd drink a beer or two."


Monday afternoon, bartender Vicki Ferretti said Mr. Wilde will be missed.

Mr. Wilde drank nothing but Budweiser, from the can, she said. "He'd come in

and stay a couple of hours, have lunch. Corned beef and cabbage was his

favorite," Ferretti said. "He'd drive his scooter right in, and park it in

front of the jukebox. If it wasn't charged enough, we'd plug it in so he'd

have enough juice to get home.

Everybody knew him. We all doted on him."


2/9/05
WILKERSON, Isabell Renowden
Passed away on April 11, 2005. Survived by son David Wilkerson of

Carmichael; daughter Roberta Coffin of Tustin; and grandchildren Megan
Wilkerson; & Margo and Tristram Coffin. Wife of Robert Wilkerson (deceased).

Retired teacher/former head of English department at Rio Americano High

School. Newspaper advisor/English teacher at Encina High School. Later

became a free-lance writer and editor of California S-TILE Magazine,

contributing editor for Builder/Developer Magazine.

Memorial service to be held at 3:00 PM Friday, April 22, at Russ Monroe's

Village Chapel, 7960 Winding Way, Fair Oaks. In lieu of flowers, the family

requests donations be made to help fund college scholarships through the

Fair Oaks Rotary Foundation, P.O. Box 236, Fair Oaks, CA 95628.

Published in the Sacramento Bee on 4/20/2005.
Bill Wise
Bill passed away peacefully in his sleep on April 15 after a 15-year battle with Alzheimer's. He was born June 24, 1932, to George and Ruby Wise (deceased). He was predeceased by sisters Harriet and Suzanne, and brother John. Bill was a man of many talents. In high school he was an athlete who served as student body president. When he was drafted into the army during the Korean conflict, his musical talents kept him stateside, performing in the Sixth Army Band at the Presidio in San Francisco. He earned his Bachelors degree at San Francisco State while working as a muni bus driver. Friends always enjoyed his dry sense of humor, his love of puns. Bill started his teaching career at Elk Grove High School teaching English before moving to the San Juan Unified School District as English Department Chair at Encina High School. He taught there for many years, earning his MA from USF and his administrative credential. He then served at Loma Vista Continuation High School and El Camino High School as an administrator. He retired in 1992. While teaching, Bill continued his musical career, playing clarinet and saxophone with Milton Dick and His Orchestra. He also performed with the Camellia City Hot Six, participating in many Jazz Jubilees. In addition, he formed a student jazz band, the Bell Street Housewreckers. During the late 60's, Bill served as president of the California Association of Teachers of English and earned his license as a private pilot. He also built a vacation home in Soda Springs and served as president of the Homeowners Association at The Bluffs 1995-96. In retirement, Bill enjoyed bicycling, world travel, and golf, joined Orangevale Rotary where he was a Multiple Paul Harris Fellow, and served on the board of the Friends of the Orangevale Library from 2003-2014. He leaves behind his wife of 43 years, Jane, son Bill Wise Jr., daughter Cheryl (Wise) Czech, and son Mark Veglia, brother George, sister Celia, former wife Eileen Hess, and grandchildren Sean and Neal Wise. In lieu of flowers, contributions can be made to the Orangevale Rotary Charitable Fund, PO Box 33, Orangevale, CA 95662, or to the Friends of the Orangevale Library, 8820 Greenback Lane, Suite L, Orangevale, CA 95662. Friends and family are invited to a Celebration of Bill's life Sunday, May 3, from 1:00 pm to 3:00 pm at Rotary House, 7150 Baldwin Dam Rd, Folsom, CA 95630.
Donald E. and Robert K. Wurster died following a fire in the home

Indianapolis Star, The (IN) - September 20, 2000

Services for Donald E. Wurster, 69, and his son, Robert Karl Wurster, 42, both of Indianapolis, will be private. Calling is 6 to 9 p.m. Friday in Leppert & Hensley Mortuary, Nora Chapel.

They died Sept. 18 from injuries in a home fire.

A graduate of Purdue and North Carolina State universities, Donald Wurster co-founded Construction Engineer Co. in 1995. From 1970 to 1995, he co-owned Wurster Construction Co. A member of the American Society of Chemical Engineers and the American Association of Electrical Engineers, he held two patents for electrical engineering devices.

He was a member of Sigma Pi fraternity and American Association of Radio Engineers and was a member and former commander of the Hoosier Power Squadron. He was also a ham radio operator, using the call letters KC94X.

A graduate of Purdue University, Robert Wurster was a self-employed stock analyst. Previously, he taught math and science at Encina High School in Sacramento, Calif., for three years.

Memorial contributions may be made to the burn unit at Riley Hospital for Children or to a favorite charity.

Donald Wurster is survived by his wife Phyllis C. Chapman Wurster sons William A., Richard D. Wurster brothers Fred C., Russell P., James A. Wurster two grandchildren.

Robert Wurster is survived by his mother and brothers
The Sacramento Bee, July 7, 1995
JOHN ZUPAN IS DEAD AT 51 AFTER BATTLE WITH MS
John Zupan, a popular fixture on the Sacramento-area high school football coaching scene for more than 20 years, died late Tuesday night (July 5) at his east Sacramento home. He was 51.
Known as "Coach Zupe" by his players and peers, Zupan was stricken with multiple sclerosis, an incurable disease that attacks the nervous system.
"It's a big loss," said Dick Sperbeck, who coached Zupan at Bishop Armstrong High School and later worked with him at Christian Brothers. "We were all so impressed with his fortitude, the way he handled the disease. No one ever saw him get down, and that was his character." Zupan was a Bee All-Metro linebacker/running back at Bishop Armstrong, graduating in 1962. He played at Sacramento City College, where he experienced his first setback from the disease, before coaching at CBS, Encina, and Del Campo from 1965 to 1985.
His legs failing him, Zupan would lean against the press box to coach his Del Campo teams before electing to use a golf cart on the sideline. That sort of determination touched those around him. Even though the Sacramento
County Sheriff's football team he coached lost to the Police in the 1983 Pig Bowl charity game, Zupan was voted the Most Inspirational Player.
In an interview two years ago, Zupan said the necessity of the car especially bothered him because it served as a reminder of how the disease had denied him use of his legs. "And I hated riding it because I didn't want the players to think I was better than they were or that I was taking the easy way, but the sad truth was, I needed the thing," Zupan said. "Coaching finally got to be too much, so I had to stop."
Mel Fontes, an assistant at Valley High School who coached with Zupan at CBS, remembers one poignant story. "One time he fell off his cart and Dick (Sperbeck) and Dave (Hoskins) and I rushed to help him," he said. "'No, I
can do it!'" he told us. He worked his way back onto that cart, offered us a beer and laughed about the whole thing. That's the kind of proud man he was."
1/23/01