kindergarten class 1949-50
grade 1 class 1950-51
grade 2 class 1951-52
grade 3 class 1952-53

grade 4 class 1953-54
grade 5 class 1954-55
grade 6 class 1955-56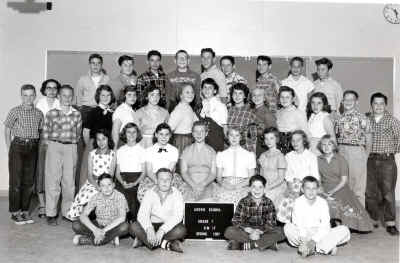 grade 7 class 1956-57 (courtesy of Rick Larson 62)

Top Row: left to right - Mrs.?, ____, ____, ____, Tracy Spence, ____, Bob Nofus, Ronald Hietbrink, Ronnie Hebdon
2nd Row from Top: left to right - Rodney Sievers, Jack Stephenson, Sally Long, Sue Hopkinson, ____, Susan Jonas, ____, ____, ____, ____, ____, Rick Larson, Bill Johnson
3rd Row from Top: left to right - JoNell Mattews, Callie Ann Segrest, ____, Norma Lewendon, Judy Kruger, Pat Rogers, ____, ____
Bottom Row: left to right - Larry Crum, ____, ____, ____
Mr Bulter's grade 7 1956-57 (courtesy of Barbara Rea 62)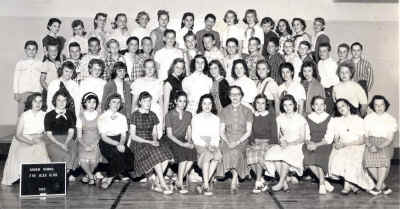 grade 7 glee 1956-57 (courtesy of Rick Larson 62)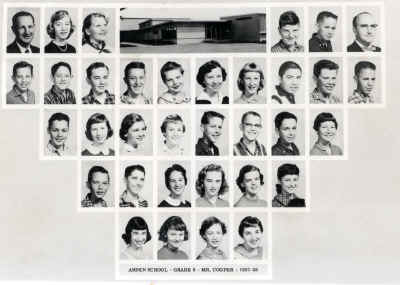 Mr Cooper's grade 8 class 1957-58 (courtesy of Rick Larson 62)

Top Row: left to right - Mr. Johnson, ____, Evalynne Peterson, Scott Schultz, Richard Hilton, Mr. Cooper
2nd Row from Top: left to right - David Post, Norman Cooper, Lyle Ryan, Scott Morton, Joan Sullivan, ____, Jo Ann Ingle, Sal Chavez, ____, ____
3rd Row from Top: left to right - Lonnie Davenport, ____, Charlene Jones, Sue Allen, ____, Rick Larson, David Albright, Sally Long
4th Row from Top - left to right - Lyle Jacobson, Greg Bogart, Barbara Law, Bonita Ballau, ____, Kay Lynn Norman
Bottom Row: left to right - Pat Brown, ____, Pat Curtain, ____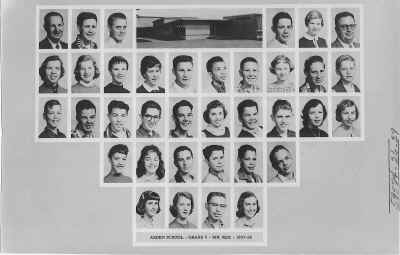 Mr. Kee's grade 8 class 1957-58 (courtesy of Barbara Rea 62)
Top row: left to right - Principal Mr. Johnson, Kirk Delcamp, Jeffery Emanuels, Arden School, Larry Marshall, Connie Baker, Mr. Kee.
2nd Row from Top: left to right - Norma Luendon, Janet Conley, Janet Hullin, me (Barbara Rea), Dick Dern, John Vincent, Kenneth Klamen, Heidi Studt, Gary Smaltz, Pete Schewert (spelling?)
Third Row from top: left to right - Jerry Allard, Terry Crowley, Ronnie Ruebesky (spelling?), Robert Whitmore, David Hartman, Bonnie Spence, Bill Johnson, Ronny Singler, Loudine McManus, Marilyn Platz.
Fourth Row from Top: left to right - Kathy McGuire, Nancy Barlow, David Durham, Alan Castle, Lonnie Heitbrink, Bill Greerson
Bottom Row: left to right - Callie Seagrest, Judy Krueger, Steve Nicolous, Joan ? (I cannot read the writing). Anyone know her last name?